Annual SF6 Gas Management Seminar
Registration is open for the 2022 SF6 Gas Management Seminar taking place November 8-9, 2022 in Tampa, FL. Save your spot today!
While most people outside of the electrical and environmental industries are unfamiliar with Sulfur Hexafluoride, it is a compound that we manage every day at DILO. With over 50 years of SF6 gas handling experience, we understand the importance of responsibly utilizing this gas in electrical and transmission applications due to its high global warming potential.
Well-informed and trained technicians can greatly impact the reduction and elimination of SF6 gas emissions. It is DILO's mission to provide an interactive platform for leaders and experts to share best management practices, mandatory/voluntary reporting updates, challenges, and safe handling information of SF6 while also focusing on other trends in the industry. DILO's premiere annual conference gives all stakeholders the opportunity to compare and share solutions that align with our "Zero Emissions" philosophy.
---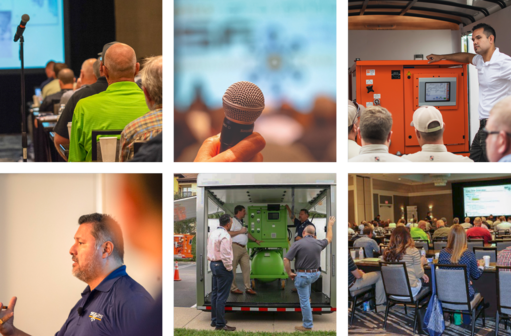 ---
Registration Cost
| | | | | |
| --- | --- | --- | --- | --- |
| Attendee Category | | | | Registration Fee |
| Electrical/Government Utility & OEMs | | | | $125 |
| Electrical Contractor | | | | $1,000 |
| Government Agency* (EPA, CARB, MASSDEP) | | | | Free |
Registration Details
This is an in-person event. All registrations include access to industry presentations, break-out sessions, meals served at the conferencee, and social events including the Welcome Dinner and the Farewell Happy Hour.
*Government Agency category registrations are subject to verification and approval.
---
Learn From Industry Experts: Engaging presentations and hands-on break out sessions
An interactive platform for sharing best management practices, reporting updates, challenges, and safe handling information about SF6 gas. Day one of the seminar features presentations from industry experts. Day two consists of technical break-out sessions designed to help gas users optimize SF6 gas handling to increase safety and eliminate emissions.
---
2022 Break-Out Sessions
Our hands-on break-out sessions are the highlight of the SF6 Gas Management Seminar. Due to recent regulatory updates affecting SF6 gas and requests from 2021 Seminar attendees, we will be featuring two break-out sessions focused on the topic of Alternative Gases along with our SF6 gas handling topics:
Mixing of Alternative Gases
Identify the ratio/mixture of alternative gases
Understand the importance of liquid vs. vapor in the mixing of alternative gases
Prevent cross contamination during gas mixing
Alternative Gas Handling
Identify differences in handling of liquid and vapor gases
Explain the differences between alternative gas handling and SF6 gas handling
Maintain a homogenized mixture of gases
Avoid cross contamination during gas handling
Nameplate Verification
Identify the tools required for Nameplate Verification
Locate and document nameplate discrepancy
Decipher the SF6 Gas Density Curve to confirm operating pressure
DILO Certified Gas: Reconditioning, SF6 Gas Inventory and Cylinder Management
List the benefits of using reconditioned SF6 gas
Describe the specifications of reconditioned gas for use and supply with GIE
Recognize the difference between reconditioned SF6 gas and following the Three R's Protocol
Perform accounting of gas inventory and cylinder management
---
Who Should Attend
Substation maintenance engineers
Utility environmental managers
Substation linemen
Electrical engineers
Utility asset managers
SF6 gas handling specialists
Utility technical specialists
R&D teams for alternative solutions
---
Testimonials
"Attending the 2021 SF6 Gas Management Seminar was an eye opening experience and one that will last forever.The broad area covered including gas chemistry and the effort in finding a replacement was sensational.There is a lot of work going on in the area, had I not attended the seminar I would have had no knowledge about. DILO has proven itself to be a leader in protecting and preserving our planet in performing its services worldwide.They have also committed to sharing this information to as many companies and corporations as possible.Being able to bring together most of the industry greatest partners to share their knowledge is great. Thanks DILO."
"The relevant and practical content of this years seminar was fantastic. Thanks for your efforts with providing this forum to share your knowledge and provide education." -Doug Dyck, Manitoba Hydro
I have been advocating for my electric utility company to be prepared for on-coming tighter GHG emissions reporting legislation; my regular attendance at the DILO SF6 Gas Management Seminar has helped guide my efforts. Thank-you to the DILO team for bringing the community together and supporting a 'zero release' policy for SF6 gas testing & handling.
---
Earn IACET Continuing Education Units
DILO is offering 1.2 Continuing Education Units (CEUs) for this seminar. DILO is accredited by the International Accreditors for Continuing Education and Training (IACET) and offers IACET CEUs for its learning events that comply with the ANSI/IACET Continuing Education and Training Standard. IACET is recognized internationally as a standard development organization and accrediting body that promotes quality of continuing education and training.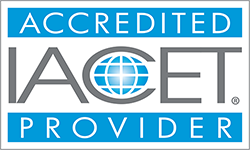 ---
Learning Outcomes
Upon successful completion of the course, the learner will be able to:
Identify primary SF6 contaminants
Recognize economic, safety, environmental, and legal considerations of gas handling
Detect nameplate identification and markings
Understand Blank-off pressure
Comprehend personnel safety and PPE requirements for staff handling SF6 gas
Choose the right testing methods (field level equipment vs lab analysis) for the application
Examine how volumes of SF6 gas, compressor sizes, and kV breaker sizes affect recovery time
Evaluate proper steps in treating exposure to by-products
Determine Nameplate accuracy
Calculate recovery percentage
CEUs
Upon successful comple0on of the course, learners will be awarded 1.2 IACET CEUs and a Certificate from DILO Company, Inc. In order to successfully complete the course, trainees must meet the following requirements:
Attend each day of the seminar in its entirety
Actively engage and participate in seminar
Score 70% or better on written post-course assessment
PROPRIETARY INTEREST DISCLOSURE
It is DILO Company's policy to disclose to par0cipants any proprietary interest in any product, instrument, device, service or materials discussed in the learning event. This training course includes the use of products and/or devices of which DILO Company, Inc. and/or the instructors have financial interest.
---
Sponsorship Information
Please contact us at marketing@dilo.com for information on our sponsorship packages.
---
Questions
Please contact us at marketing@dilo.com with questions regarding DILO's Annual SF6 Gas Management Seminar.