SF6 Testing and Monitoring
Precise Analysis of SF6 Gas Quality
In order to ensure proper operation of your Gas Insulated Equipment, the SF6 gas must be tested with an SF6 gas analyzer to make sure contaminant levels do not exceed the values set forth by the manufacturer, CIGRE, or IEEE. DILO Direct offers full-service, onsite SF6 testing and monitoring of your SF6 insulated equipment. We will test the quality of your SF6 gas (Moisture, Purity %, and Byproducts) using our state-of-the-art monitoring equipment. Our certified technicians will be able to verify that the contaminant levels are holding to the recommended standards. Recommendations for future maintenance will also be provided.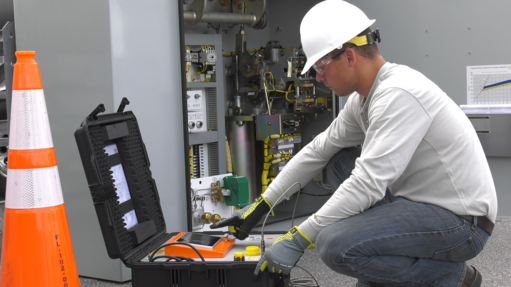 How is SF6 Gas Tested?
SF6 Analysis to determine gas quality prior to performing maintenance is standard practice. Any time you are filling or recovering gas from equipment, it is always essential to verify the quality of the gas. Falling back on DILO "S E A L" motto will help reinforce the importance of testing. Typically, we are testing for Purity, Moisture, and SO2 but depending on the equipment type some other parameters can be measured as well. Testing your SF6 gas is very important because if SO2 is present, special Personal Protective Equipment (PPE) and training are required since SO2 is harmful to human health. It is also important to know the SF6 gas quality as the usage of poor-quality gas can damage existing units.
Methods of Testing
There are two main concepts in which you can have your SF6 gas tested. Field-level gas analysis can be completed with a lightweight portal multi-analyzers or you can collect and send out your samples to a lab. Sending samples to a lab is the more accurate option but has drawbacks. One is the timeframe it can take to receive results. It is not uncommon for it to take days/weeks to receive an analysis report. Second is the risk of human error contaminating the sample while capturing the sample. With a limited number of samples you can draw out, you have fewer chances of successfully collecting an accurate sample. This leads us to the second concept, and usually most preferred. Testing the gas quality with a portable multi-analyzer is generally the industry standard. You are guaranteed limitless, accurate results within minutes if you use DILO zero-emission equipment or services.
High Quality-Equipment
It is vital to use state-of-the-art zero emissions equipment during testing and analysis of SF6 gas. Another important aspect is to ensure that the testing equipment has either a self-recovery feature or a collection bag so that SF6 is not vented into the atmosphere. DILO Direct exclusively uses the newest DILO equipment on the market to perform gas analysis.
DILO's new and improved Multi-Analyzer SF6 testes for the following three primary parameters:
Purity (SF6 volume percentage)
Moisture concentration (°C / ppmv)
SO2 Concentration (ppmv)
*with the option of:
HF Concentration (ppm)
H2S Concentration (ppm)
CO Concentration (ppm)
DILO's Mirror Analyzer works by utilizing the dew point principle, the cooling of a volume of gas until condensation forms, to measure moisture content. This machine tests for the following parameters with one measurement:
Purity (SF6 volume percentage)
Moisture concentration (°C / ppmv)
SO2 Concentration (ppmv)
Maintain A Clean Environment
When testing for SF6 gas, it is imperative to keep as clean as an environment as possible by avoiding moisture intrusion or contamination from any hoses or inputs going into gas analysis equipment.
Arguably, knowing the moisture levels is the most important and most challenging test to perform to determine the quality of the SF6. Sample contamination can be avoided by using only proper equipment (stainless steel/Teflon lined hoses & regulators with stainless steel or brass diaphragms), effectively preparing hoses (example: dry hoses and fitting surfaces with N2), and eliminating mistakes such as touching fittings with sweaty hands. Avoid equipment such as rubber hoses or regulators with rubber diaphragms, which promote moisture permeation.
At low temperatures, moisture will condensate, or in extreme cases freeze, in GIE, whereas testing on a warm day will be more representative of the actual moisture content. The ambient temperature at which the sample is drawn should always be recorded in case the result will be compared to a previous or future test.
Testing for non-reactive gasses (Purity) and (SO2) is generally much easier. Differences in temperature and potential handling errors, at worst, will have a negligible impact on the accuracy of the sample.
We can also ensure a more sterile environment by capping connections and keeping the work area free of debris/dust as much as possible.
Proper SF6 Testing Starts With Trained Experts
Even when the right equipment is being utilized, if best safety practices are not followed emissions can occur or the safety of the technician can be in danger. Therefore, we recommend that all testing be completed by trained experts, such as the DILO Direct technicians.
Another option is to properly train your staff to safely handle SF6 gas. DILO offers multiple SF6 Safety & Handling Trainings including a new self-paced version of the course to provide your technicians with vital knowledge for optimizing SF6 gas handling practices, safety procedures, and regulations/reporting.
Safety Should Be A Priority
Safety should always be a top priority when handling SF6 gas. One way to do this is to ensure proper PPE is worn during testing, which typically includes gloves and safety glasses/goggles. At times, SO2 by-products can naturally occur within the SF6 – which can be extremely hazardous to humans. If SO2 is found to be present, we recommend donning more extensive PPE which also requires special training. DILO does offer a webinar on Emergent By-product Cleanup Services; However, we do ultimately recommend that your team refers any handling of SO2 to trained professionals in order to protect your staff from any potential harmful side effects.