Gas Safety Room Monitor
Continuous leak detection of several gases via sensors
3-026-R200
The Gas Safety Room Monitor is capable of detecting the presence of several gases in ambient air via connected Sensors. Now users can detect leaks of SF6, SO2, C4-FN, CO2, and O2 with the use of only one unit. The 7" touchscreen monitor displays alarms and is capable of recording and storing measured variables. Up to 32 Sensors can be controlled and monitored. In addition, there are free relays that can serve to further warning systems. Thanks to the well-proven DILO operating and setting principle, important data, warning and alarm limit values can be retrieved. The installation and maintenance of the Sensors via the plug-and-play concept makes handling very comfortable.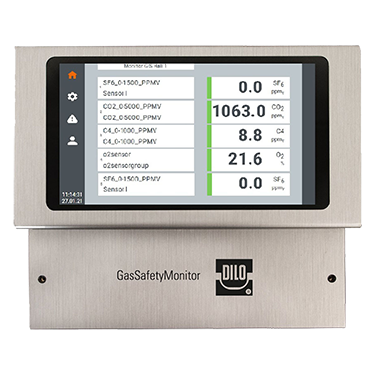 Advantages and Functions:
Different acoustic warning, alarm and error signals
Coloured visual messages on both the Monitor and the Sensor
Registration of all messages in the device
Individual naming of the Monitor and connected Sensors
Permanent display of the measured values, control and settings of all connected Sensors
Sensors are connected via an RJ45 cable (Ethernet and Power over Ethernet (PoE))
Up to three Sensors can be connected and supplied directly via the Monitor
The additional Sensors can be connected via a PoE injector switch until the maximum number is reached
Max. cable length of 100 m, extension of transmission distance possible by interconnecting PoE switch
---
Gas Safety Sensors compatible with Gas Safety Monitor
The Gas Safety Sensor is designed for monitoring the ambient air in rooms with gas-filled equipment for measuring different tracer gases. The Sensor unit detects the lowest concentrations of the gas to which it is adjusted/calibrated and permanently shows the current measured value on the display. There is no radioactive source in any of the DILO Sensors, so no special precautions regarding radioactive hazardous substances are required during operation. The Sensors are also characterised by a fast response time with stable measuring results. Cross-sensitivities of the Sensors to other gases and to air moisture are not known. Naturally existing gas components in the air can be suppressed. For example, when using a CO sensor, it can be set in such a way as to hide the natural CO content in the air so that only values which are above this natural content are measured. The warning and alarm levels of each Sensor can be freely configured. If the default setting is to be changed this can be done either via the connected GasSafetyMonitor or via a web server.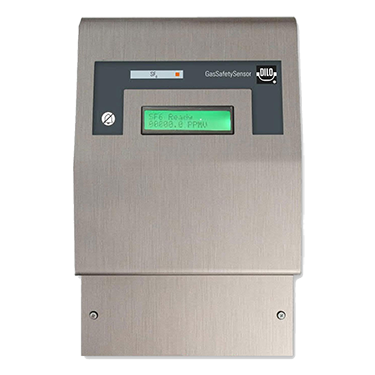 ---
Example Configuration: