Units for gas insulated lines (GIL)
For efficient handling of SF6/N2/CF4 gas mixtures
DILO supplies high-performance special application devices that gas insulated lines require. Therefore, efficient handling of large volume GIL lines is no problem.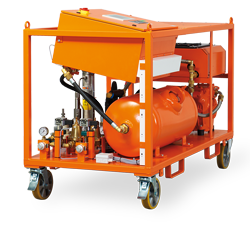 Product range:
Compressed-air preparation plants for pressure tests on GIL
Powerful vacuum pump units with Roots blower for evacuation of air (final vacuum < 1 mbar)
Mixing and filling plants for homogenous gas mixture with an SF6 percentage of 10 to 80 %
High pressure recovery units (final vacuum < 1 mbar) for storage of gas mixtures up to 250 bar
Large mobile filter units for drying gas
Cylinder bundles for storage of gas mixtures
Please contact us for pricing or more information.