Analyzer Calibration
Professional sensor calibration and module exchange
Analyzers should be calibrated at least every two years to ensure zero emissions of SF6 and accurate readings. The recommended calibration time of two years is based on average use. If you receive a lifetime of sensors expired warning, you should send the analyzer in for calibration immediately. Regular, preventative maintenance will extend the life of your analyzer. It is important that a well-qualified technician performs the calibration. Improper calibration could result in exposure to arc by products, damage to the unit, or faulty readings during gas analysis. When you send your unit into DILO's Analyzer Calibration Laboratory, a certified technician will:
Perform initial inspection functional test for the unit and accessories, including sensors, operating software, batteries, hoses, and fittings
Leak test the entire unit
Review the service history of the device
Update operating software, if applicable
Provide an estimate and lead time for any additional repairs upgrades, if applicable
Obtain customer approval before starting any additional repairs
Safely neutralize and dispose of any items exposed to Arc-byproducts
Perform sensor and module calibration/exchange, including SO2 sensor, purity sensor, moisture sensor, and electrochemical sensor
Provide third party calibration certificate
Replace any missing manuals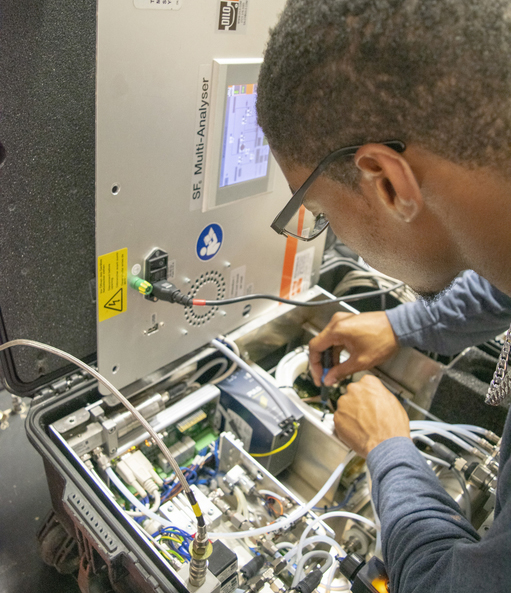 Our DILO Certified Technicians have years of experience, receive regular trainings, and use state of the art test equipment. Our calibration results are backed by third party certification. We strive for quick 1-2 week turn-around to minimize down time.
All DILO Analyzers can be sent in for calibration, including:
Mirror Analyzer SF6 3-035R-R…
Multi Analyzer 3-038R…
Arc-Byproducts Analyzer 3-032-R103
Purity Analyzer 3-027-R002*
Moisture Analyzer 3-037-R002
Please contact us or fill out an RMA request form to get the process started.
*Replacement will be required for models > 10 years. Please inquire about our legacy trade-in program.