SF6 Cylinder Scale
For determining gas volume in cylinders
K091R165
Electronic SF6 cylinder scale featuring digital display with battery compartment.

The electronic weight scale allows for quick and easy determination of the filling quantity of a gas bottle. The large weighing platform and the supporting chain provide additional stability of the gas bottle.
The weight is indicated on the illuminated display, which switches off automatically if the scales are not used for a certain time. Thanks to the tare function, gas inputs and outputs can be precisely quantified. After use, the bottle scales can be folded for compact storage.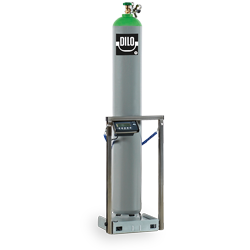 Other features:
Weighing range: up to 120 kg with tare function
Digit increment: 10 kg
Accuracy: ± 20 g
Weight indication reversible from kg to lbs