SF6 Weight Cylinder Scale
For determining gas volume in cylinders
K091R165
Electronic SF6 cylinder scale featuring digital display with battery compartment.

The electronic weight scale allows for quick and easy determination of the filling quantity of a gas bottle. The large weighing platform and the supporting chain provide additional stability of the gas bottle.
The weight is indicated on the illuminated display, which switches off automatically if the scales are not used for a certain time. Thanks to the tare function, gas inputs and outputs can be precisely quantified. After use, the bottle scales can be folded for compact storage.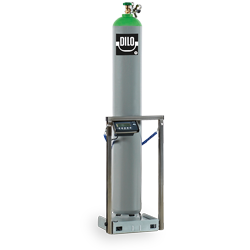 Other features:
Weighing range: up to 120 kg with tare function
Digit increment: 10 kg
Accuracy: ± 20 g
Weight indication reversible from kg to lbs
---
SF6 Cylinder Weight Capacity
When using a weight scale for SF6 high-pressure cylinders, it is ideal to use a scale with a range close to an average cylinder's maximum weight. The average 277cf cylinder has a tare weight of approximately 115 lbs. (*tare weights can vary from cylinder to cylinder). When filled, the maximum SF6 gas capacity of a 277cf cylinder is also 115 lbs. As a rule of thumb, for steel cylinders, the ratio is 1:1 for every pound of tare weight, one pound of SF6 can be filled. For the example of a 115 (empty cylinder) filled with 115 lbs. of gas, you end up with a cylinder weight of 230 lbs.
The weight range with DILO's Electronic Cylinder Safety Scales is up to 120kg (265 lbs.), which is in line with the typical maximum capacity of filled SF6 cylinders.
SF6 Cylinder Pressure Requirements
High-pressure cylinders used for SF6 gas storage are required to be DOT or ISO approved. At pressures of 29PSIG @ 68⸰F or greater, the container must bear DOT or ISO approval numbers and have a working pressure of at least 1000 PSIG (49CFR173.304a(2)).
The example below shows a description of what each section of a DOT approval number means. In this example, the container is rated for 2015 PSIG, which exceeds the requirement of 1000 PSIG.

Valve specifications for cylinders require SF6 cylinders to be equipped with a pressure relief that has a burst pressure* range from 10,000 PSI to 13,500 PSI.
Below is a chart and additional information on CGA-590 (SF6) cylinder valves:
Design Specifications

Maximum Working Pressure

GV: 3500 PSI

GVHM: 6000 PSI

*Burst Pressure

GV: 10,000 PSI

GVHM: 13,500 PSI

Operating Temperature Range

-50˚ F → +149˚ F

Storage Temperature Range

-65˚ F → +155˚ F

Minimum Cycle Life

2000 Cycles

Closing Torque

20–30 in.-lbs.

Leak Rate Internal/External

GV: 1x10³ atm cc/sec.

GVHM: 1x10⁴ atm cc/sec.

PRD Flow Capacity

60 cfm @ 100 PSI
Identifying the Safety Valve (pressure relief) location on a CGA-590 valve: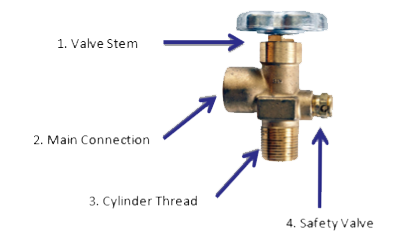 Cylinder Transportation Requirements
Insulating gas cylinders/vessels used for storage and transportation must be manufactured and certified to a recognized standard. The US Department of Transportation (DOT), Transport Canada (TC), and UN/ISO have published and established cylinder standards.
The UN/ISO standards are newer than DOT/TC standards , and are considered to be superior to, DOT/TC-rated cylinders. Insulating gas cylinders/vessels stamped and certified with in the UN/ISO standard are commonly recognized internationally. As a result, they are generally approved for use in almost every country around the world. Essentially, UN/ISO cylinders can cross country borders and still be filled easily as long as they are within certification per the regulation and the applicable standard.
Insulating gas cylinders/vessels manufactured and stamped to the DOT/TC standard must conform to the applicable requirements of 49 CFR 178.35. Insulating gas cylinders/vessels manufactured and stamped to the DOT/TC CFR 49 CFR 178.71 are acceptable for transport to, from, and within the U.S. The High-Pressure compressed gas cylinders/vessels must have "USA" country-of-approval marking to be acceptable for transport to, from, or within the U.S.
The above may apply to other gas types. Please reference the requirements, standards and regulations as applicable to the subject gas to be stored in a cylinder/vessel.