SF6 MASS FLOW METERS
Mass Flow Meter for Recording Gas Quantities to and from the Circuit Breaker
B152R41 / B152R41S15
Mass flow measuring system
with an additional resettable, adding and subtracting counter
B152R51
SF6 Mass flow measuring system ( battery-operated with charge indicator)
Battery operation enables an application independent of the power supply.
The SF6 Mass Flow Meter can be used to accurately measure the quantity of SF6 (in lbs/mass) as it is either filling equipment, or during gas recovery. Because the measurement is based on the volume of gas passing through the device, traditional cylinder weighing is not required. Thus the operator will not have to lift a bottle onto a scale – a welcome relief.
The transmitter, sensor and meter are housed in a small, lightweight module. During gas transfer, the operator places the module between the gas source and destination (i.e. between a cylinder and breaker). As the gas flows through the device, a digital meter accurately reflects the number of pounds (weight) of gas passing through the device. The information can also be transferred to a computer, making SF6 tracking that much easier. The addition of a secondary meter allows users to add and subtract gas quantities, making monitoring simple and effective.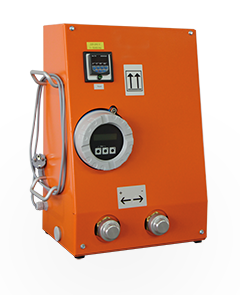 Other features:
System can be wall or table mounted
Coupling groove part DN20
Measuring accuracy for gases: 0.50 % ± 0.1 kg/h
PC-Hart modem with PC interface cable (available as option)
Indication in kg or lbs
---
SF6 Mass Flow Meter with Automatic Filling Function
B152R94
The unique combination of mass flow meter and filling device facilitates the SF6 gas monitoring considerably. This device does not only enable the registration of the quantities filled in, but allows the automatic filling of a gas compartment at the same time. Thus the operator can select the indication of the gas quantity required or the preset filling value.
After having pressed the start key, the filling quantity required flows from the gas vessel into the gas compartment automatically.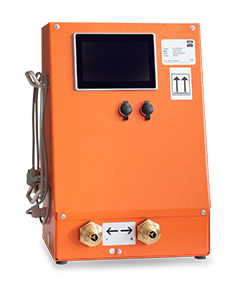 Other features:
System can be wall or table mounted
Easy handling via 7" coloured touch screen
Indication in kg / lbs, bar rel. / bar abs. / kPa / MPa / psi selectable on the operating panel
Data storing of up to 200 measuring values with names
Adjustable user languages: DE, EN, FR, ES
Data transmission via USB or wireless
---
FAQ
What is a mass flow meter?
A Mass Flow Meter is a measuring system used to quantify flow rates (kg/h or lbs/h) and weights (lbs/kg) of gases and liquids.
How does a mass flow meter work?
The Mass Flow Meter's measurement is based on the Coriolis Principle, where a tube inside the meter has sensors to measure oscillation, twisting, and frequency as fluid or gases flow through it. The sensors pick up on the phase shift, which is a direct measure of how much gas flows through the tube.
DILO couplings installed on the inlet and outlet of a Mass Flow Meter allow for the connection of service hoses without gas loss and emissions.
Operations are carried out through the touch screen and DILO's software that allows tracking the measured values with the automatic functions.