Alternative Insulating Gases: C4 and C5 Product Lines
SF6 Free Gas Handling
Alternative Gases are alternatives to SF6, the preferred insulating and arc-quenching gas used in switchgear in the last few decades. DILO has invested years of research and development into the first complete product line engineered for the handling of alternatives to SF6 gas. SF6 is an excellent quenching and insulating gas that has been used in the energy sector worldwide for more than 50 years. While SF6 has excellent dielectric properties, it is also the most potent greenhouse gas with a GWP of 23,900. Ideally, SF6 should be used in closed loop systems and never be emitted into the atmosphere. While the industry has made great strides in gas handling and drastically reduced the emissions of SF6, concerns over the high global warming potential of the gas have the industry looking for alternatives to SF6. Therefore, switchgear manufacturers are starting to develop solutions and creating breakers for alternative gases.
Several switchgear manufacturers now offer the first eco-efficient breakers made to handle alternatives to SF6. In certain applications, alternative gas breakers can even replace SF6 in the high voltage range. These gases have a significantly reduced GWP value and therefore show a noticeably reduced global warming potential. Our C4 and C5 product lines include everything users need to handle alternative gases.
DILO Products for Alternative Gases
DILO has developed a complete line of alternative gas handling and measuring devices for C4-FN or C5-FK gases. Our C4 and C5 product lines offer everything from leak detectors and measuring devices to gas service carts needed to handle these alternative gases. Additionally, we offer services for alternative gases through DILO Direct.

Even if alternatives to SF6 gas are used, the gas must be recovered from the gas compartment, during routine maintenance. The air must then be evacuated and the gas compartment refilled. In this respect, the handling does not differ noticeably from SF6 gas handling. In line with DILO's zero emission philosophy, we have defined a closed technological cycle that covers all gas handling processes with high reliability and without emissions.
Note: SF6 breakers and maintenance equipment cannot be used with any alternative gases. Switchgear and maintenance equipment will have to be overhauled completely if a company decides to use any alternative insulating gases.
DILO's Roadmap to SF6 Free Gas Handling
As a pioneer in SF6 gas handling with over 50 years of experience, we were able to combine tradition with the requirements of new gas mixtures. We are proud to be the first company to develop a complete product line for gas handling and maintenance of alternatives to SF6 gas. Download our complete Alternative Gas Flyer and Roadmap below: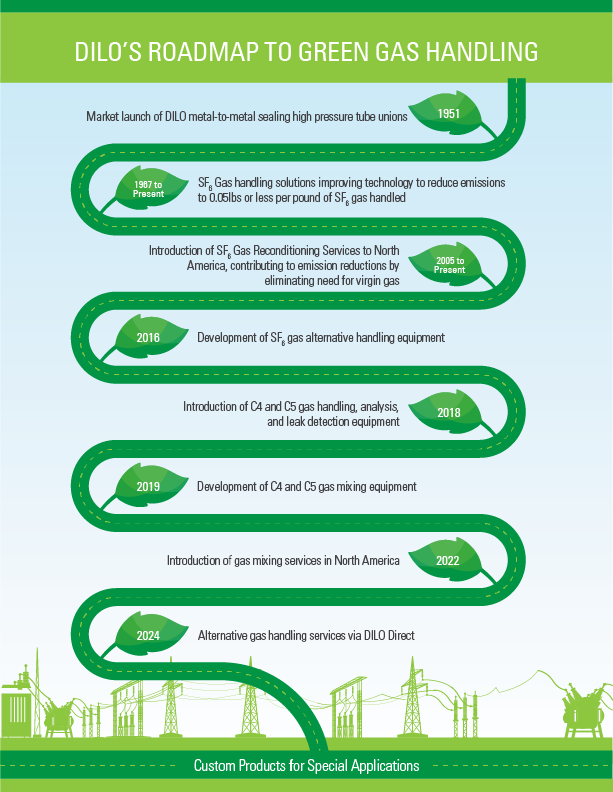 Custom Product Solutions
Thanks to our in-house expertise in all fields of gas and gas mixture handling, we can also offer you custom product solutions. DILO will help you design suitable product for your special application. Starting with concept development, DILO will work with your company through technical development, production, and support you through commissioning and beyond.
Please contact us for more information.