SF6 Leak Pointer / Sniffer
For quick tracing of small SF6 leaks
3-033-R002
The lightweight, cordless SF6 Leak Pointer can detect SF6 leaks in seven different sensitivity levels. This handheld device has a response rate of less than one second. The sniffer utilizes the high voltage ionization measuring principle. The SF6 Leak Sniffer is easy to operate with one hand and ideal for determining the location of small SF6 gas leaks. Leakage data is clearly presented on an LED display. In addition, an audible alarm alerts the user to the presence of SF6 leaks. The leak detector clears itself quickly, even after detecting large SF6 leaks. The SF6 Leak Sniffer comes in a study carrying case. The power supply is two "C" cell alkaline batteries, eliminating the need to charge the device. The SF6 sniffer operates in a wide range of temperatures, from 32 to 1260F. These features make it perfect for using to find leaks in the field.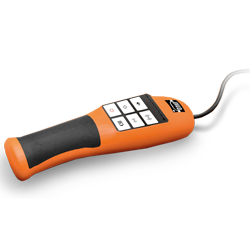 Other SF6 Leak Detector / Sniffer Features:
Rapid response rate of less than one second
Low recovery time of less than one second
Detection of leaks of up to 5g per year
Temperature-compensated
LED Display
While the SF6 leak sniffer is good for detecting small leaks fast, for a more robust inspection we suggest using our advanced and portable SF6 gas leak detector.