Buy SF6 Gas (Sulfur Hexafluoride) from Industry Leaders - DILO
Sulfur hexafluoride (SF6 ) is a synthetic fluorinated compound that features a highly stable molecular structure. SF6 gas is made of six fluorine atoms attached to a central sulfur atom. Its unique properties make it a useful resource for a range of industries, including electric utilities. It is often utilized in electrical circuit breakers, electric piping, and as a gaseous insulator.
Given its various applications, federal government officials in energy sectors, along with CFOs at private electrical utility companies, may be wondering: where can I buy SF6 gas? Learn how below from the experts at DILO.
Why DILO?
DILO is dedicated to creating innovative solutions which has earned us the reputation as an important partner for professional and emission-free gas handling. Using DILO-engineered, manufactured, and dedicated SF6 equipment, we supply customers with reconditioned gas that exceeds IEC 60480 and IEEE C37. 122.3-2011 standards. Additionally, all new, re-certified, or in-certification customer SF6 gas cylinders go through rigorous testing to ensure no traces of residual contaminants, such as SO2, other vapors, or oil, are present.
DILO's SF6 Gas Products
To better serve our customers, we offer sulfur hexafluoride in guaranteed purities and concentrations, utilizing random, third-party batch testing to verify results. Our supply of SF6 gas products consists of a guaranteed purity level of at least 99%. Other specifications include:
Less than 99.5 ppmV (-41.5 degrees Celsius dew point) moisture content
Contains zero SO2/ gas byproducts
Additional options with our SF6 gas products include:
Third-party analysis with certificate
Quarterly or annual reports for SF6 gas consumption
Loaner cylinders available (must be returned within 30 days of delivery)
Expedited shipping and processing for faster delivery
SF6 gas reconditioning and disposal services
Access to on-site field services where DILO-Certified Technicians will handle SF6 gas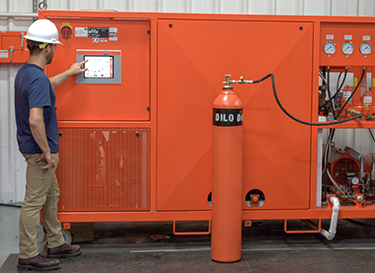 DILO's Commitment to the Environment
Instituting our core values of quality, innovation, liability, and flexibility, DILO strives to produce solutions that are sustainable for the environment. To keep up with humanity's ecological changes and challenges, we have implemented a zero-emissions philosophy that contributes to greenhouse gas reduction. Through this mission, we have accepted the challenge of combining technology and the environment to create healthy processes and solutions for our partners and customers.
Our sustainability efforts don't only involve our products. We also practice environmentally conscious policies for our manufacturing processes. We are proud to boast our factory exclusively uses green electricity along with sustainable technology like electric vehicles.
Our commitment to the environment also involves responsible water use. To save water, rinsing water for cleaning metal parts is reused multiple times while only minimal amounts of water are disposed of per statutory and environmental requirements.
How to Determine the Quality of SF6 Gas
To ensure the SF6 gas you buy meets industry standards and is safe to use on your gas-operated equipment, testing is necessary. This can be done by leveraging an SF6 gas analyzer. This tool offers a precise analysis of SF6 gas quality and helps make certain contaminant levels do not exceed allowable values.
DILO is pleased to offer full-service, on-site SF6 testing and monitoring. Using state-of-the-art equipment, we can accurately gauge the quality of your SF6 gas. During our testing process, we strive to keep as clean an environment as possible, avoiding moisture intrusion and contamination from any hoses. Testing should be administered only by trained and experienced professionals. DILO technicians are highly knowledgeable in best safety practices to eliminate emissions from occurring and receive the most accurate results.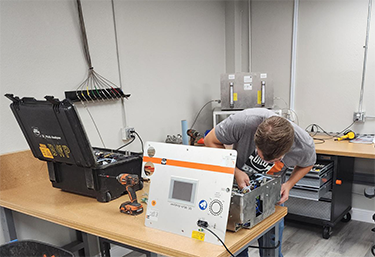 Why Reconditioning the Gas Is Important
If SF6 gas encounters leaks, undergoes inadequate evacuation, or is handled incorrectly, it can become contaminated with air, nitrogen, and/or tetrafluoromethane(CF4). When reconditioned, SF6 gas will once again exceed quality standards and can be safely used for different applications. Other benefits of the preparation of SF6 gas include:
Lower expenses for SF6 gas disposal
Reduced costs for new SF6 gas
Emission-free preparation of gas
A decreased carbon footprint through the reuse of SF6 gas
Where Can I Buy Sulfur Hexafluoride? Try DILO
DILO is the exclusive supplier of DILO Certified SF6 Gas. With a network of locations across the United States, we supply premium quality SF6 gas safely and efficiently to clients in the U.S., Canada, Latin America, and the Caribbean. In addition, DILO offers accredited SF6 gas safety and handling training to help you and your employees remain up-to-date on current best practices. Contact us today for more information about our SF6 gas products and professional services.