Gauge T Piece
For pressure control of SF6 gas
K040R01 Gauge T Piece
Indication range: -1 to 15 bar

This gauge is provided as connection between switchgear and service cart, particularly as completion for the Piccolo Series. As the gauge is equipped with two connecting couplings on both ends it can be connected easily.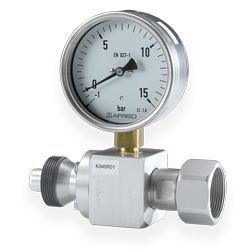 Standard equipment:
DILO coupling tongue part DN20
DILO coupling groove part DN20
Gauge NG 100

Other pressure ranges and nominal lengths are available on request.