Gas tight cutting device with lashing straps
Gas tight cutting device with lashing straps For SF6 gas recovery from non-metallic gas compartments "sealed for life"
Z415R05

This gas tight cutting device for non-metal (e. g. medium voltage components of epoxy resin) SF6 gas compartments has been specially desiged for emission-free SF6 gas recovery from sealed for life breakers that often have an uneven, convex or round surface.
The cutting device can be mounted easily on the components to be disposed of by means of lashing and ratchet straps to allow drilling the epoxy resin part without any problems. For gas recovery, the service cart is connected via a DILO coupling. A sinter filter integrated in the cutting device prevents solid particles from entering the service cart during the gas recovery process. This device configuration is particularly suited for companies specialized in the disposal and recycling of medium voltage components.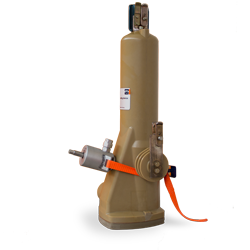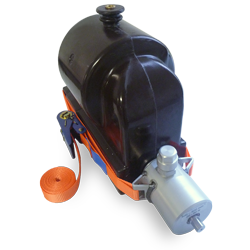 Other features:
Operation of the device with accumulator or hand drill
Self-closing DILO coupling as connection to the service cart
Device with lashing and ratchet strap
Integrated sinter filter
Storage in a stable transport case
Other versions are available on request.