MIRROR ANALYZER SF6
For the measurement of three parameters with the press of one button
3-035R-R...
MIRROR-ANALYSER SF6

This multi-functional device allows the determination of up to three quality parameters with only one measurement:
SF6 volume percentage
Moisture concentration
SO2 concentration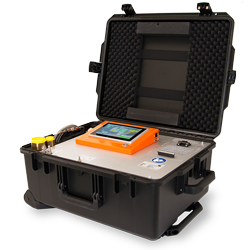 The SF6 Mirror Analyzer works by utilizing the dew point principle, the cooling of a volume of gas until condensation forms, to measure moisture content. As the gas sample passes over the chilled mirror surface, the moisture content of the gas is determined by comparing the temperature of the mirror to the condensation rate of the gas. The chilled mirror technology allows for highly accurate results over a wide range of dew points. The other parameters of SF6 quality are determined by measuring the speed of sound (SF6 volume percentage) and electrochemical reaction (SO2 concentration).
Intuitive 7" color touch panel interface
Battery or plug power supply
Compact and lightweight design
Inlet pressures up to 500 psig (eliminates need for external regulators)
Zero Emission gas testing principle
Field-replaceable sensors
Data Storage for up to 500 tests
Integrated calibration warning system
USB- and LAN connection for data transfer to Excel spreadsheets
Sensor controlled testing (reduces test durations)