Helium leak testing unit
Unit for quick and precise leak testing of vacuum tight series components and helium recovery
Filling of the test object with helium inside the chamber (integrated gas handling)
Built-in calibration reference leak
Evacuation of the chamber
Test time approx. 5 minutes
Integrated helium recovery
Manual sliding door with pneumatically controlled door lock
Automatic control and colour touch panel with PC connection
- Leak detection system: mass spectrometer
- Smallest detectable leak rate of the leak measurement system: 1x10-11 mbar l/s
- Chamber size: approx.: 1.3 m³
- Pumping performance: 500 m³/h with final vacuum 1x10-3 mbar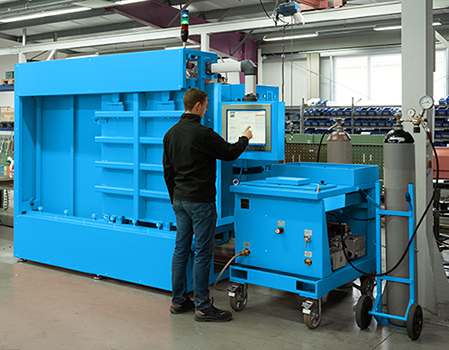 Applications:
Automotive industry
-Common rail injection systems and fuel pumps
-Oil and cooling circuits on cylinder blocks and cylinder heads
-Refrigerant vessels and cooling hoses
-Components of brake systems etc.
Refrigeration and air conditioning technology
-Heat exchangers, refrigerant hoses, air-conditioning compressors, evaporators, air-conditioning lines, charge air coolers
Plant engineering
-Pumps, fittings, valves
Other fields of application
We recommend DILO helium leak testing units whenever a high tightness level of the components to be tested is required.
Do you have any questions or a specific application? We are happy to help. Please contact us.