Atmospheric Test Chambers
"LeakScanner SA" models
The advantage of atmospheric test chambers is that it is not necessary to evacuate air before the test process.
Test chambers of this construction type can be manufactured at significantly lower cost with a significantly larger volume than vacuum chambers. We build these chambers with a chamber volume of up to 50 m³ as standard. This allows for reliable testing of even larger units and assemblies.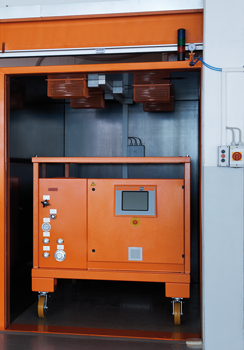 Atmospheric test chamer with automatic rolling shutter
We also recommend atmospheric testing when delicate, vacuum-sensitive components such as devices with touch screens need to be leak tested.
This system configuration also allows the filling of the test objects with SF6 gas in the test chamber and subsequent recovery of the gas. However, with atmospheric pressure, the test duration is on average 10 - 30 times longer as the increase in concentration for atmospheric pressure is significantly lower.
Please contact us for pricing or more information.