Economy Series
The model range for universal SF6 gas handling applications
L057R01/51
DILO is proud to introduce the all new L057. This model captivates with its compact construction and modern design while integrating state-of-the-art technology and ergonomics.
There's nothing we haven't thought of, from the integrated drawer for adapters and hoses to the digital weighing scales. Modern control technology in conjunction with a user-friendly interface in several languages make device operation simple and convenient. The external covering of the device protects the integrated components and considerably reduces operating noise. Thanks to various options, the device can be configured to meet any customer's needs.
A protective cover with shading function combined with a swiveling control panel allows glare-free and ergonomic operations at the optimal working height. An additional USB and Ethernet connection is integrated in the control panel for data exchange.
This device is a culmination of decades of SF6-specific R&D, which guarantees end-users the most cutting-edge technology and intuitive controls on the market.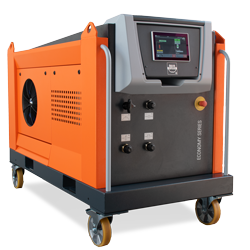 Other features:
Devices for liquid storage of SF6 gas
Gas recovery down to < 1 mbar
Automatic control and 10" capacitive multi-touch panel
Optional remote control via mobile devices
Reversing switch for direction of rotation
Digital weighing scales for SF6 cylinders
Residual gas recovery down to 1 mbar during filter change
Automated special functions for emission-free maintenance of the device
All versions are available with tanks that can be assembled under the device; with CE marking or optionally with SQL or ASME approval
The service carts can also be mounted onto a trailer, if required