SF6 Gas Cylinders
All SF6 cylinder gas cylinders comply with applicable international (ISO), federal (DOT) and state regulations to ensure the end-user never experiences any issues with transportation, handling, and/or environmental related events.
Available in 20, 40, and 277cf in stainless steel and 122cf in aluminum.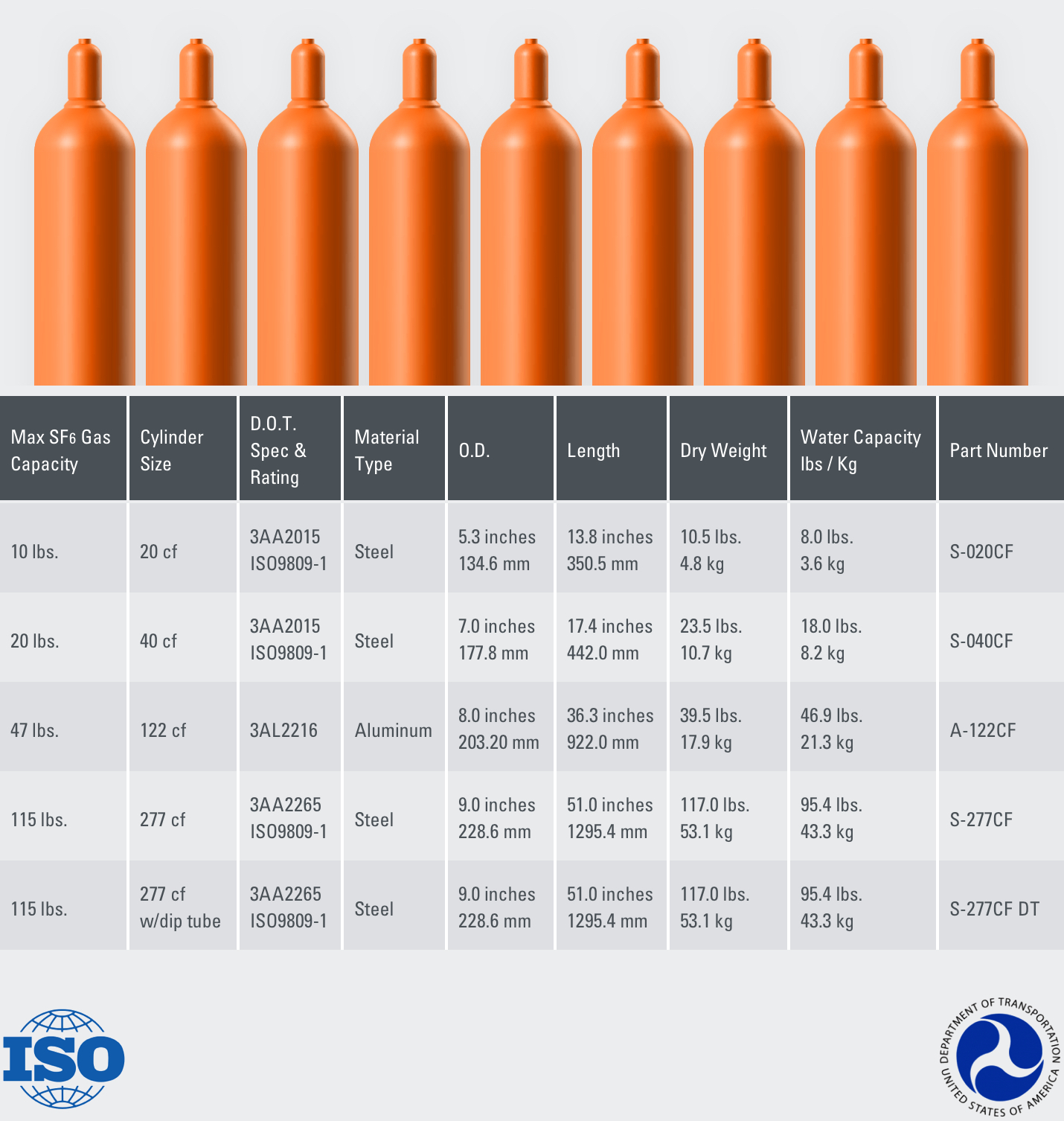 ---
Proper packaging & following filling limitations are important considerations when choosing the correct container type for use with SF6. Per 49CFR173.115(b), all Class 2.2 gases (i.e., SF6, N2, etc.) may only be transported in DOT-approved containers. Currently, the only approved containers are high-pressure cylinders. Transporting SF6 in unapproved containers (i.e., breakers, welded tanks, propane tanks, etc.) is illegal and punishable by prison time and/or fines. Pressures within unapproved containers must be below 29 PSIG @ 68°F to be considered legal.
DILO maintains an extensive inventory of quality high-pressure cylinders for purchase or lease at competitive prices with prompt delivery.
DILO Cylinder Standards:
All cylinders valves are Bidirectional Flow
All cylinders are furnished with CGA-590 threads unless specified otherwise.
Steel cap provided with all steel cylinders
Dry weight includes neck ring and valve but excludes the valve cap. Add an estimated 2 lb. (0.91 kg) for the steel cap.
Valve guard provided with all aluminum cylinders
All steel cylinders are painted safety orange
277-cf size cylinders can be provided with or without dip tubes.
All cylinder serial numbers and tare weight data are logged in the DILO Direct-Track database
All cylinders are DILO Leak Tested
DILO also offers Six (6) SF6 Cylinder Storage Packs and Sixteen (16) SF6 Cylinder Storage Packs that utilize the same efficiency as tonners but are easier to transport, manage, and use. Storage packs provide a convenient and safe method of transporting cylinders to and from the worksite or gas supplier. The integrated DILO manifold design offers the ability to isolate individual cylinders or take advantage of the total storage capacity.
---
Process of Filling Cylinders
When SF6 must be removed from the equipment and stored for later reuse, it is crucial to ensure proper storage via large enough storage vessel or an adequate number of high-pressure cylinders are available in preparing for gas recovery. Due to safety, environmental and economic concerns, all available resources should be used to prevent the release of SF6 into the atmosphere.
So, how much gas can you fill into a cylinder and how do you determine the amount of gas in a cylinder?
Because SF6 can be liquefied in a cylinder, the static vapor pressure will be the same whether the cylinder is completely full or almost empty. Consequently, a bottle with 300 PSIG may have 100 lbs. of product or only 10 lbs. To verify the volume of gas in a cylinder, it is necessary to monitor the weight of the cylinder as you fill in or remove gas from it. It is essential to ensure that a properly calibrated weighing device is used to prevent overfilling storage cylinders.
The filling of cylinders is not regulated by DOT, and there are no laws prohibiting customers from filling their own cylinders. DOT prohibits the transport of cylinders that were filled by anyone other than the owner without written consent in statute CFR173.301(e). Cylinders cannot be filled and transported if more than 5 years have passed since the last inspection – 10 years for cylinders with a star (*). According to CFR180.209(b), however, a ring- or hammer test has to be performed before filling cylinders that have a test date older than 5 years. At pressures of 29 PSIG @ 68°F or greater, the container must bear DOT or ISO approval numbers and have a working pressure of at least 1000 PSIG. Statute 49CFR173.304a(2) states SF6 may be transported only in cylinders with DOT or ISO approval numbers.
DILO Direct Cylinder Services
DILO Direct offers recertification services for any containers that are contaminated with high concentrations of arc byproducts (i.e. SO2) or are out of their hydrostatic certification range.
DILO's recertification process includes:
Sandblasting of the interior and exterior of the container
New valve and dip-tube replacement when applicable
Repainting of the exterior to RAL 2004 ("DILO orange"), unless specified otherwise
New hydrostatic test stamp to reflect new validity range
Reweigh and stamp tare weight on the cylinder as needed.
All cylinder serial numbers and tare weight data are logged in DILO Direct Track database
All cylinders are DILO Leak Tested
DILO's onsite cylinder exchange/consolidation services include:
A DILO technician on-site to exchange cylinders & calibrate cylinder rack weight scale as applicable
Round trip shipping & handling of exchange cylinders and tooling
Leak Test of cylinders, cylinder rack, and recovery equipment as applicable
Certificate of compliance with NIST certificate traceability for test weights used to calibrate the weight scale