Piccolo Series
Service cart for SF6-gas handling of small to medium size gas-insulated equipment
L030R02
The L030R02 Piccolo Series service cart was designed for small to medium size gas-insulated equipment with maximum portability and ease of use in mind. The Piccolo series is ideal for the purpose of servicing SF6 volumes between 60-100lbs quickly and efficiently within a zero-emission operating environment. This fully featured cart can perform all functions necessary to process SF6 gas to near-new condition.
Standard functions include:
Removal of SF6 to achieve >99.99% gas recovery.
Cleansing of SF6 during the recovery and filling functions
Evacuate a gas compartment to remove ambient air and moisture after breaker entry
Refilling of reclaimed SF6 from an external cylinder
The Piccolo's operation has been designed with total simplicity in mind. This unit offers a single "do-all" service port, along with proprietary set-and-forget software that allows even the least experienced individual to operate this cart without issue. When combined with other on-board equipment, such as an integrated scale and venting ball valve, it becomes clear that DILO has put forth the effort to provide the most versatile and efficient service cart available in its class.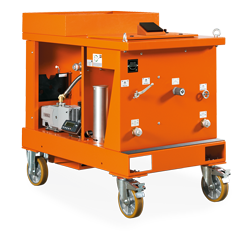 Other features:
Device for liquid storage of SF6 gas
SF6 gas recovery down to < 1 mbar
Semi-automatic control and 3.5" colour touch panel
Optional remote control via mobile devices
Reversing switch for direction of rotation
Digital weighing scales for SF6 bottles
Residual gas recovery down to 1 mbar during filter change
Reduction to transport pressure as integrated special function