SF6 Gas Analyzer for Quality and Purity
3-038R-R... Multi-Analyzer SF6
After years of innovative research and development, DILO is proud to introduce the new and improved SF6 gas analyzer, the Multi-Analyzer SF6, boasting an upgraded and intuitive interface on a 7" color touch screen. Mobile operation capabilities allow convenient remote control via smart devices. The Multi-Analyzer SF6 requires no warm-up time and is ready for immediate operation after switching on. This emission-free, multi-functional measuring device can determine up to six measuring parameters with only one sample:
SF6 volume percentage (%)
Moisture concentration
SO2 concentration (ppm)
HF concentration (ppm)
H2S concentration (ppm)
CO concentration (ppm)
Moisture measurements are carried out at operating pressure, resulting in the highest accuracy results for any analyzer currently on the market. Direct Connect hardware included on the analyzer allows DILO technicians to access your device remotely to quickly and effectively diagnose problems and assist with operation issues. This lightweight SF6 gas purity analyzer makes transport easier than ever with an easy to remove, integrated battery and durable rolling case. Our field-replaceable sensors offer a great benefit as the device is ready for immediate use after the exchange without any down time.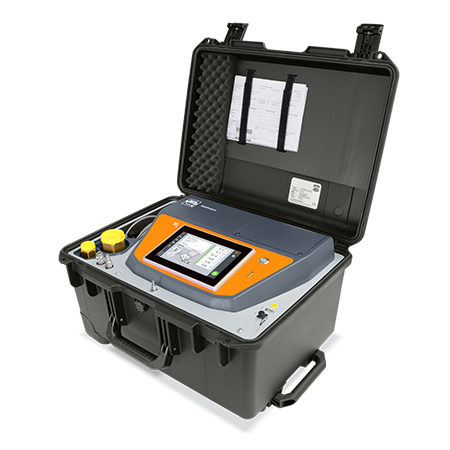 The Multi-Analyzer SF6 allows different methods of operation for emission-free handling of the measured gas:
» Internal storage of the measured gas (max. inlet pressure 35 bar pe) within the device, in an external cylinder, or an external gas collecting bag. It is recommended to collect the gas in an external gas collecting bag for continuous measurements.
» Pumping the gas back into an external cylinder, vessel or gas compartment (up to 10 bar pe).
» The external bag can be emptied by using the Multi-Analyzer SF6, a DILO service cart, or compressor unit.
No gas emissions
Modular interchangeability of the sensors
Easy operation and intuitive menu navigation via high quality 7" color touch panel
Storage of up to 500 measurement results with name, date, and time
Remote control and data download via mobile devices and WIFI connection
Battery operated and/or external power supply
Adjustable user languages: DE, EN, FR, ES, IT, PT, CZ, PL, CN, JPN, RUS
Two (2) years of Direct Connect service support