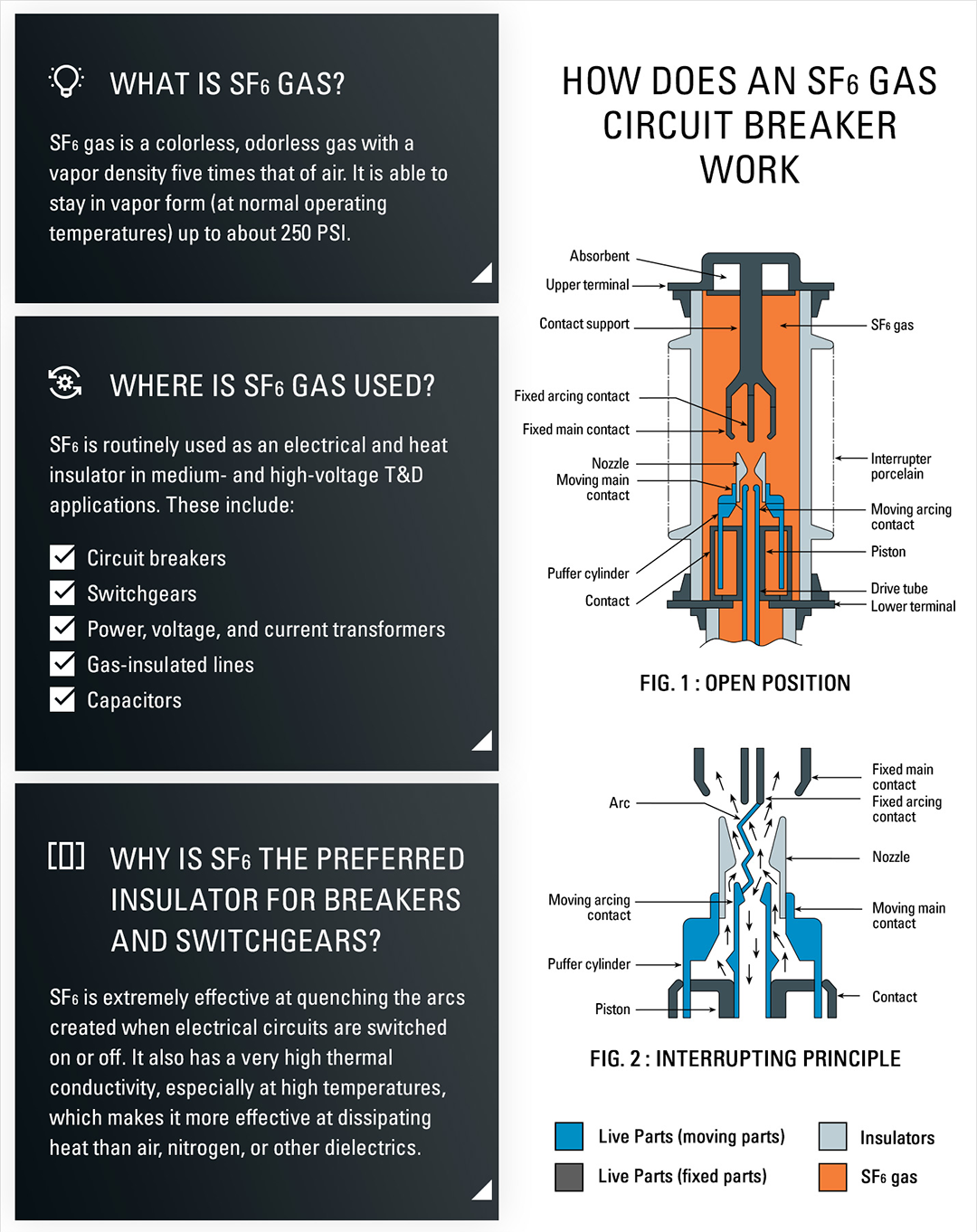 What is an SF6 Gas Circuit Breaker?
Circuit breakers protect electrical power stations and distribution systems by interrupting electric currents when tripped by a protective relay. SF6 gas circuit breakers use sulfur hexafluoride as an arc-quenching insulating medium. Transmission substations transfer high voltage power to distribution substations, which subsequently disperse the incoming electricity to lower voltages suitable for consumers on power grids. Both transmission and distribution circuit breakers are vulnerable to arcing events, which can be triggered by power surges, partial discharges, and lightning strikes.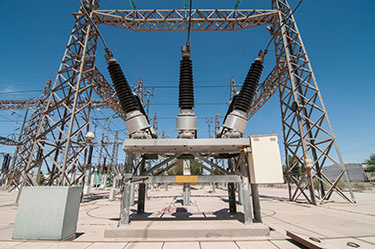 SF6 gas is inert, non-flammable, non-toxic, thermally stable, and has unmatched arc-quenching capabilities. It is more effective at dissipating heat than air, nitrogen, or other dielectrics. SF6 requires a lot of heat to break down the bonds between the molecules. When the heat source is removed the atoms begin to recombine immediately. The chemical properties of SF6 make it ideal for use within circuit breakers and switchgear. SF6 gas has excellent thermal transfer characteristics, so it works to absorb the energy of the arc. This creates resistance across the arcing contacts and eventually extinguishes the arc. Once the arc is extinguished, the SF6 gas begins to regenerate almost immediately.
The introduction of SF6 gas circuit breakers offered several benefits to the electrical industry. For example, oil circuit breakers popular in the 1990's required frequent upkeep as the medium became polluted and caused a potential fire hazard. The introduction of sulfur hexafluoride gas breakers offered a non-flammable solution. SF6 gas breakers also allow for a smaller footprint compared to breakers made to handle other insulating mediums. The dielectric strength of SF6 increases with pressure, therefore smaller breakers can be used at higher voltages.
SF6 Gas Circuit Breaker Testing
Circuit breakers are designed to clear faults to protect electrical power stations; however, in normal conditions these breakers are only in operation for a matter of minutes of their entire 20 plus year lifespan. Over time, moving parts on circuit breakers wear, alignments and clearances change, and critical functions can be negatively affected. How can you ensure that a SF6 gas circuit breaker will work when you need it to? That's where "Doble testing", or power factor testing comes into play. The Doble test detects the presence of contamination or deterioration of the breakers insulating system.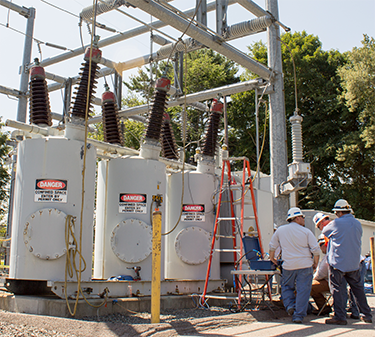 The Doble test can detect issues including:
· Moisture contamination
· Corrosion of insulating components
· Damage of components like operating rods and interrupters
Circuit breaker testing reveals these and other changes, in advance of a failure. If any problems are found, corrective action can be taken to safeguard the reliability of the breaker.
Gas Handling Recommendations for SF6 Circuit Breakers
During routine maintenance of an SF6 gas circuit breaker or in the event of a failure, the gas insulated equipment may need to be opened. This requires SF6 gas handling to remove as much gas as possible and place the breaker into the vacuum to avoid SF6 emissions. In its pure form, SF6 gas is inert and non-toxic; however, dangerous SF6 by-products form when the gas is exposed to a fault. By-products such as SO2 can also form when SF6 circuit breakers are in service for a long time and exposed to high heat and moisture.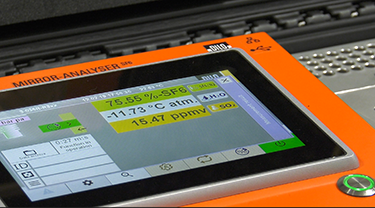 We always recommend checking the quality of SF6 gas with an analyzer before beginning any handling procedures as by-products of SF6 are extremely hazardous to human health. In addition, by-products will damage gas handling equipment and accessories. Special PPE must be worn, and best-practices must be followed to ensure the safety of technicians. You can learn more by watching our free webinar: Emergent By-Product Cleanup Services.
In addition to being aware of the gas quality and knowing how to handle SF6 by-products correctly, users must also take great care to avoid producing any SF6 emissions. SF6 gas has the highest Global Warming Potential of any gas known to man. Ideally, SF6 should be handled in a closed-loop system. Proper training and emission-free SF6 gas handling equipment is very important to prevent emissions.
SF6 Safety & Handling and Circuit Breaker Testing Fundamentals Training
Are you interested in learning more about SF6 gas handling and circuit breaker testing? You're in luck! DILO and Doble have joined forces to offer a special 4-day training focusing on both topics. This IACET accredited course focuses both on theoretical aspects as well as in-depth hands-on training. The next SF6 Safety & Handling and Circuit Breaker Testing Fundamentals Training is taking place July 18-21 at DILO Company in Odessa, FL.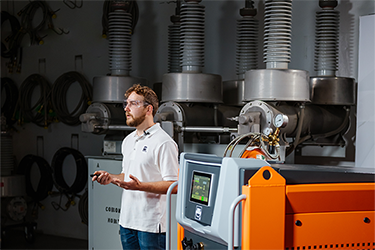 The first two days focus on SF6 gas theory and practical equipment demonstrations to provide technicians with vital knowledge for optimizing SF6 gas handling practices, safety procedures, and regulations/reporting.
In partnership with Doble, the second two days will cover circuit breaker testing. An introduction of various mechanism types, interrupters and testing methodologies will be discussed. For each test, there will be an in-depth discussion of each measurement, setup and test methodology, and acceptance criteria. A Vanguard specialist will provide training to decipher and review apparatus test results so that they are clear and easy to understand. Test results will be used for reporting and maintenance purposes and used for historical data samples to improve maintenance schedules.
Learning Objectives
Upon completion of this course, the participant will be able to:
· Describe characteristics of SF6, including history, properties, and contaminants
· Compare and contrast virgin and reconditioned SF6 gas
· Use an emission-free approach for SF6 gas analysis
· Employ best safety practices for hands-on SF6 gas handling and safety methods
· Create and apply a zero-emissions approach to SF6 gas handling, including recovery, filling, and evacuation
· Identify current environmental standards at a local and federal level
· Discuss important DOT/transportation and certification requirements and considerations for SF6 gas cylinders
· Understand the operation of circuit breakers, when to perform routine circuit breaker tests
· Interpret test results, case studies, and numerous field examples
· Effectively create test plans using the manufacturer's circuit breaker specifications
· Confidently use Vanguard circuit breaker analyzers and VCBA S2 software to perform routine circuit breaker tests and manage test plans and test results
If you have any questions or wish to schedule a custom training at your facility, please contact us.