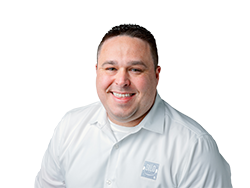 Author: Corey Ratza, Sales Director for DILO Company, Inc.
DILO Certified SF6 Gas: Truly American Made
It can be hard to measure the ways Covid-19 and current events around the globe have disrupted the global supply of parts and materials. We were all challenged with adjusting to the impact of longer-than-usual lead times, project delays, and inflation. Many of us began asking questions about where our raw materials come from and how we can secure supply links for critical components made in America. It's always surprising to learn the vast number of alternative sources we have through domestic suppliers.
Take SF6 gas for example. SF6 gas exists primarily as a man-made industrial gas. It is important to recognize that major shareholders of manufacturing virgin SF6 gas come from industrial gas production plants outside of North America. A significant number of gas suppliers based in North America import virgin SF6 from overseas as it is not allowed to be manufactured in the United States. DILO takes a different approach by reconditioning the surplus of existing SF6 gas already in the United States. This helps reduce emissions created by the manufacturing and shipping of virgin gas from Eastern Europe and Asia and allows for a reliable, quickly sourced product for our customers while creating jobs here in America.
Every day, more and more SF6 gas users are recognizing the financial and environmental benefit of moving away from their dependency on virgin SF6 Gas by switching to locally sourced reconditioned gas solutions in addition to utilizing Three R's. The list of benefits for using reconditioned SF6 is long. I encourage you to discover and read more in DILO's recent publications for our campaign on DILO Certified Gas. Surprisingly, one of the most significant benefits may be the one that has been overlooked the most. DILO Certified Gas is truly American Made.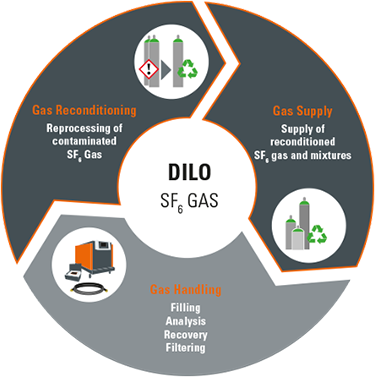 As you may know, DILO only sells DILO Certified Gas, which is SF6 gas that we recondition to meet or exceed IEEE standards. We do not promote the use of virgin SF6 as it contributes to the overall global emissions and goes against our company vision and motto: One Vision. Zero Emissions.
The Three R's
Although SF6 is a major greenhouse gas, it is also a recyclable, self-healing gas. In addition to purchasing only reconditioned SF6 gas, we encourage users to apply the Three R's (Recover, Recycle, and Re-use) to reduce their environmental impact.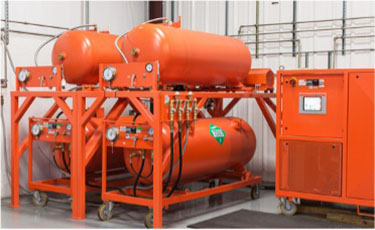 These three steps are outlined briefly below:
Recover: This requires capturing the gas from a GIE through an emission free process that includes filtration of contaminants such as moisture, SF6 gas by-products and sometimes, oil. When completing SF6 recovery using a gas cart, it is imperative to reach the lowest level of vacuum possible, or "blank-off pressure."
Recycle: Major contaminants such as, moisture, decomposition products, other vapors, and oil can be found in used SF6 gas; however, the contaminants can be removed by filtration and separation to improve quality and recycle the gas.
Re-use: The processing of the gas through an emission free and filtration sub-system to remove contamination allows the gas to be reused in GIE immediately or introduced into the supply stream for future reuse without the need to purchase new or virgin SF6 gas.
You can read more in-depth about this topic in our recent article, The Three R's: Reducing the Environmental Impact of SF6 Gas.
What is the Reconditioning of SF6 Gas?
In some cases, SF6 gas may need to be reconditioned to remove vapors prior to being re-introduced to the supply stream. DILO Direct can help! Reconditioning is a process that occurs after the Three R's is used to separate SF6 gas from other vapors (i.e., N2, O2, CF4). In short, reconditioning is a cryogenic process that is combined with filtration and high pressure through an emission free process. The end goal is to meet or exceed the standards set by CIGRE, IEEE, ASTME and IEC. When the process is followed correctly the standards can easily be exceeded.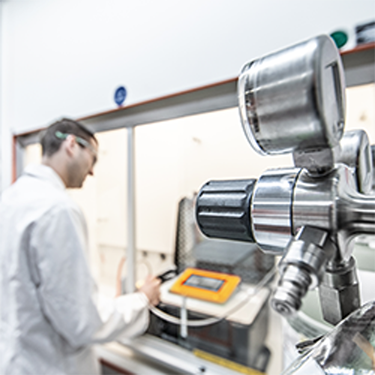 From a technological view, there are no significant differences in the makeup of engineered virgin SF6 and reconditioned SF6 that has undergone a cryogenic process to remove by-products. Furthermore, reconditioned SF6 gas can be purchased at significantly lower cost than virgin gas while simultaneously supporting American businesses
DILO Direct's SF6 Gas Disposal Spring Cleaning Sale
Do you have unwanted SF6 gas of questionable quality at your facility? Are you looking to reduce your stockpile of SF6 gas? Let DILO Direct take it off your hands!
With annual SF6 reporting underway, many companies are adding up the number of cylinders on hand only to find out they have a surplus of used SF6 inventory. Our SF6 gas disposal is designed as an alternative to venting, destroying, or stockpiling SF6 contaminated with air, nitrogen (N2), CF4, moisture, and by-products. We use our DILO SF6 gas separators to recondition contaminated gas and then reintroduce it to the supply stream.
DILO Direct will receive the gas, document the quantity received, and provide you with a report for inventory and state and federal reporting purposes. Following the reconditioning/disposal process, we will either dispose of the cylinders or return new or re-certified cylinders at a fraction of the cost of new cylinders or rental charges.
Our customers benefit from:
Reduced costs for SF6 disposal
Detailed reports for all cylinders returned to DILO Direct
Emission-free services
Lowered carbon footprint through reuse of SF6 gas
Contributing to North America's supply chain for and reducing the dependency on the imported SF6Gas
Reduction of gas in cylinders inventory
Three service centers to support you with SF6 gas supply, reconditioning, and disposal services
Typical gas disposal services range from $5 - $9.50 per pound* (depending on the quality/contamination of gas received). With DILO Directs SF6 Gas Spring Cleaning Sale, we can support you with Discounted SF6 disposal services.
*excludes shipping and cylinder maintenance services.
For a limited time, with our Spring-Cleaning promotion, between April 1 and June 30, 2022 DILO Direct is offering a flat rate of $1.50 per pound* for gas sent in for disposal. Our quick and easy online RMA from will help us get the ball rolling to have your cylinders sent in for processing.
*Exclusions apply for gas with <40% purity. Shipping is not included.
Please contact us to start the process of cleaning out your old gas today!