Understanding SF6 Gas Emissions
SF6 is a synthetic compound that is non-toxic, non-flammable, and has excellent arc-quenching capabilities. Because of its dielectric properties, SF6 is regularly used in the electrical transmission and distribution (T&D) industry for insulating electric power systems.
Unfortunately, SF6 is also a potent greenhouse gas. With an atmospheric lifetime of 580 to 3,200 years and a high global warming potential (GWP), SF6 emissions can impact the Earth's climate for thousands of years. Unintentional emissions can occur during SF6 production, as well as during the operation, servicing, and disposal of gas-insulated equipment (GIE).
In compliance with United Nations Framework Convention on Climate Change (UNFCCC), dozens of countries report their greenhouse gas (GHG) emissions. UNFCCC reporting guidelines, enforced through the Paris Agreement, require certain countries to report national emissions of SF6, as well as:
Carbon dioxide
Methane
Nitrous oxide
Perfluorocarbons
Hydrofluorocarbons
Nitrogen trifluoride
Recently, a new study used National Oceanic and Atmospheric Administration (NOAA) data to estimate U.S. SF6 emissions between 2007 and 2018. The authors found that there was a discrepancy between the Environmental Protection Agency (EPA) emissions estimates and atmospheric measurements. They also noticed seasonal differences in emissions rates, with higher SF6 emissions during winter months.
The study was published in a 2023 issue of Atmospheric Chemistry and Physics (ACP). The lead author of the article, Dr. Lei Hu, will be a presenter at DILO's Insulating Gas Management Seminar on February 7, 2024, in Clearwater Beach, Florida.
Declining SF6 Emissions from the U.S.
Since the 1990s, the EPA has been working with the T&D sector to reduce SF6 emissions. In 1999, the EPA established the SF6 Emission Reduction Partnership for Electric Power Systems, a voluntary program offering research, educational events, and best practices for emission reduction. The EPA also operated a voluntary partnership program with the semiconductor and magnesium industries from the 1990s to 2010. Many state-level agencies have also introduced programs and initiatives to reduce SF6 emissions.
Through these efforts, there has been a substantial reduction in SF6 emissions over the past 30 years. This is reflected in the EPA's Greenhouse Gas Reporting Program data. While data collected by NOAA also reflected a decline in SF6 emissions, the analysis showed emissions rates that were 40% to 250% higher than the EPA's national inventory. NOAA results were lower than U.S. emissions reported in the Emissions Database for Global Atmospheric Research (EDGAR) inventory.
Factors That May be Contributing to the Discrepancy
Why are various organizations getting different results for the U.S. SF6 emissions? Several factors could affect these discrepancies:
Emissions from the electrical transmission and distribution industry may be underestimated.
Some facilities were not required to report emissions until regulatory changes went into effect in 2011.
EPA estimates emissions for non-reporting facilities. These estimates may be inaccurate.
Emissions from other areas, like the electronics industry, may be underestimated.
For non-reporting facilities, estimates are based on the emission rate per mile of the transmission line (labeled as the transmission mile) for reporting facilities. However, this rate can vary greatly depending on the age of the GIE, the company's gas handling procedures, and local regulations. Additionally, GIE nameplate capacity and actual capacity could be different, resulting in phantom emissions.
The average emission rate for reporting facilities has decreased since 1990. The largest decrease occurred during the first three years of reporting. This could mean that the introduction of reporting requirements has a positive effect on emission rates. Using data from reporting facilities to estimate non-reporting facility emissions could result in inaccurate numbers – companies that do not have to report may be less careful, and thus, have higher transmission miles than reporting facilities do.
Finally, discrepancies between atmosphere-based levels and the EPA data could also be attributed, in part, to differences in the estimated and actual transmission mile measurements for facilities.
U.S. Regional SF6 Emissions
This study also found seasonal variations in SF6 emissions across the U.S. NOAA data showed that wintertime emissions of SF6 gas were nearly double the emissions in the summer. The authors concluded that this was likely due to increased use, servicing, and disposal of GIE during winter months.
In southern states, GIE servicing is usually completed during the winter months. In Northern states, colder winter temperatures could cause thermal contraction, which would increase the likelihood of GIE leakages. This analysis can help facilities identify opportunities to decrease emission rates in the winter through improved sealing materials and handling procedures.
Toward A Zero-Emissions Industry
Although there is a discrepancy between NOAA and the EPA SF6 emission estimates, both data sets show a decline in emissions since 1990 when the voluntary SF6 Emission Reduction Partnership for Electric Power Systems was introduced. Due to its extreme ability to influence Earth's climate, everyone who works with SF6 gas has a responsibility to limit emissions to the best of their ability. With clear regulations, proper equipment, safe handling practices, and comprehensive employee training, the electrical industry is well-positioned to reduce emissions and increase awareness of the impact of SF6 gas.
Prevent Emissions Through Awareness: Upcoming Training and Events
Thorough, well-trained gas handling technicians are the first line of defense against SF6 leaks. That's why DILO offers virtual and in-person training opportunities through DILO Academy. As leaders in the SF6 gas handling industry, we are committed to a zero-emissions philosophy.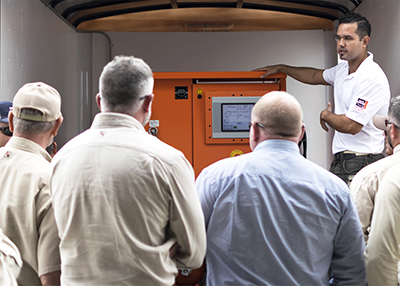 We encourage all power transmission and distribution industry professionals to join us at DILO's Insulating Gas Management Seminar in Clearwater Beach, FL. Presentations will focus on topics such as:
Reducing SF6 gas emissions
Alternative gas handling
Research and development of SF6 alternatives
Regulatory updates
This seminar is ideal for professionals such as electrical engineers, gas handling specialists, utility asset managers, and substation linemen. DILO is thrilled to host distinguished presenters including Dr. Lei Hu, an atmospheric scientist at NOAA. You can sign up for the upcoming 2024 Seminar here.
If you have more questions about this upcoming seminar or any other educational opportunities through DILO, contact us today.