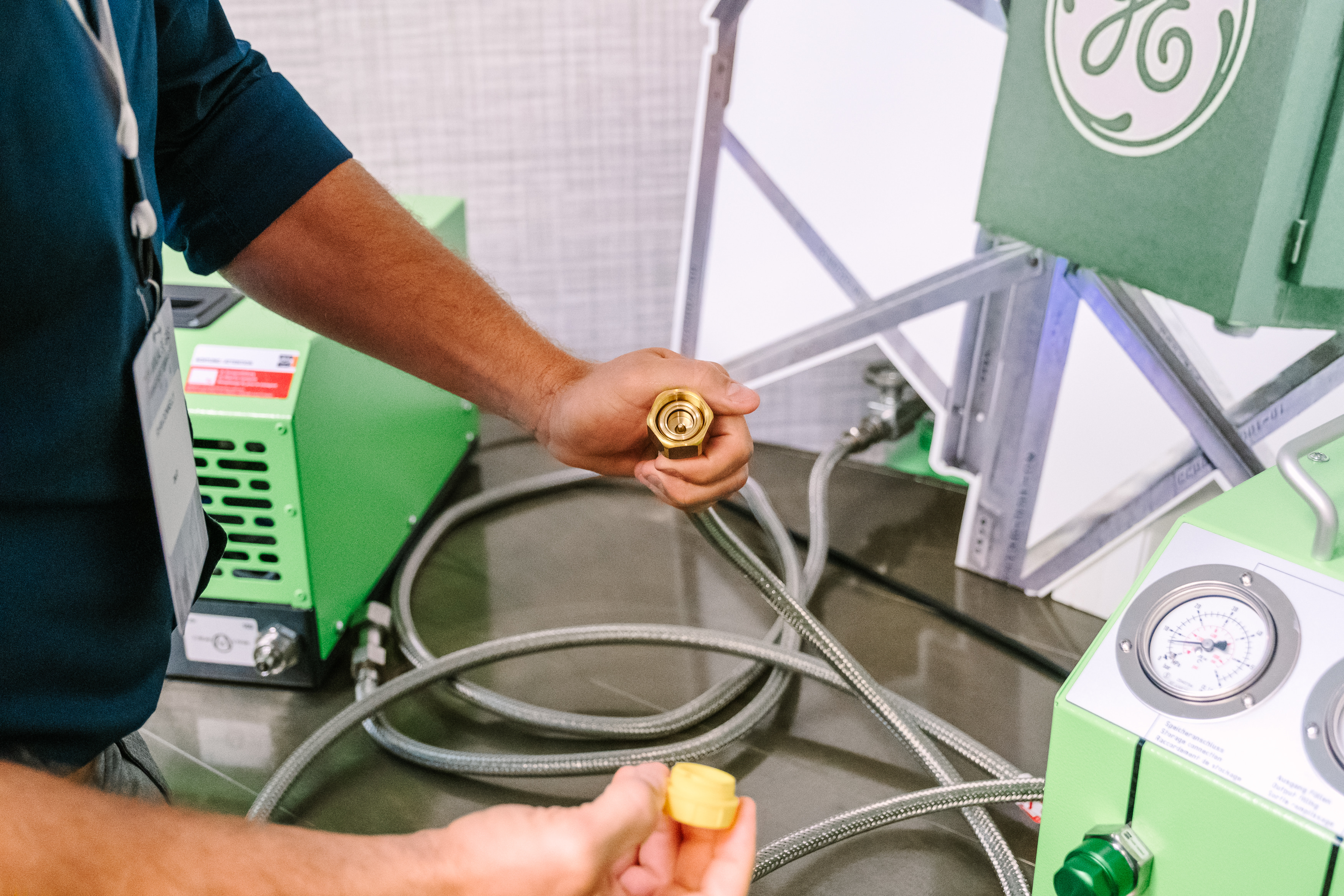 Once released, SF6 can remain in the atmosphere for more than 3,000 years and has a global warming effect significantly greater than carbon dioxide. Proper fittings and adapters can help minimize the risk of emissions during gas handling. Learn more about SF6 gas handling fittings and best practices.
Common Fittings
The right equipment is critical for safe SF6 handling. This includes couplings and fittings to connect gas cylinders to equipment. Typical fittings for gas handling include:
Compression Fittings
These fittings are sealed by torque applied to a compression nut. A specific tightening procedure is required to establish a proper seal – over-tightening can damage the fitting.
Flange Couplings
This type of coupling uses an O-ring to seal two flat sources together. The O-ring can be replaced as needed, and the equipment does not require any kind of thread sealant.
Flare Fittings
This is a type of compression fitting that uses a tapered thread usually made from copper or steel. Direct metal-on-metal contact creates a seal, or they may employ a copper gasket. They do not require sealant but may leak if over-tightened or damaged.
National Pipe Thread (NPT)
Also known as a tapered thread seal, this is a typical fitting with angled threads that create a seal when the fitting is tightened. However, NPTs may be prone to leakage and thus require sealing material, such as Teflon tape or liquid thread sealant.
Parallel Thread
Instead of having tapered threads, this fitting has straight thread walls. To create a seal, a parallel thread requires a bonded washer or an O-ring. The fitting can be sealed at the bottom of the threaded portion (known as the nose) or at the top of the threaded portion just below the hex bolt (known as the face). While the washer or O-ring may need routine replacement, these fittings do not require thread sealant.
Tongue and Groove
At DILO, we recommend tongue and groove fittings for best performance – and this is the type of fitting we use on all our equipment. The design uses metal-to-metal contact to create a seal and is now the industry standard, as the fitting maintains its seal despite vibration, vacuum pressure, or temperature fluctuations. Plus, the fitting cannot be over-tightened.
DILO Sealing Principle
Using tongue and groove fittings means that DILO equipment can be secured without a sealing compound. The different radii of curvature of the tongue and groove create two ring-shaped, highly stable sealing areas. Plus, the braking surface on the tongue couple prevents the seal area from becoming distorted, even under extreme pressure.
All of DILO's fittings are:
Interchangeable
Resistant to vibrations
Temperature resistant
Applicable for fluids or gases
Easy to assemble and disassemble.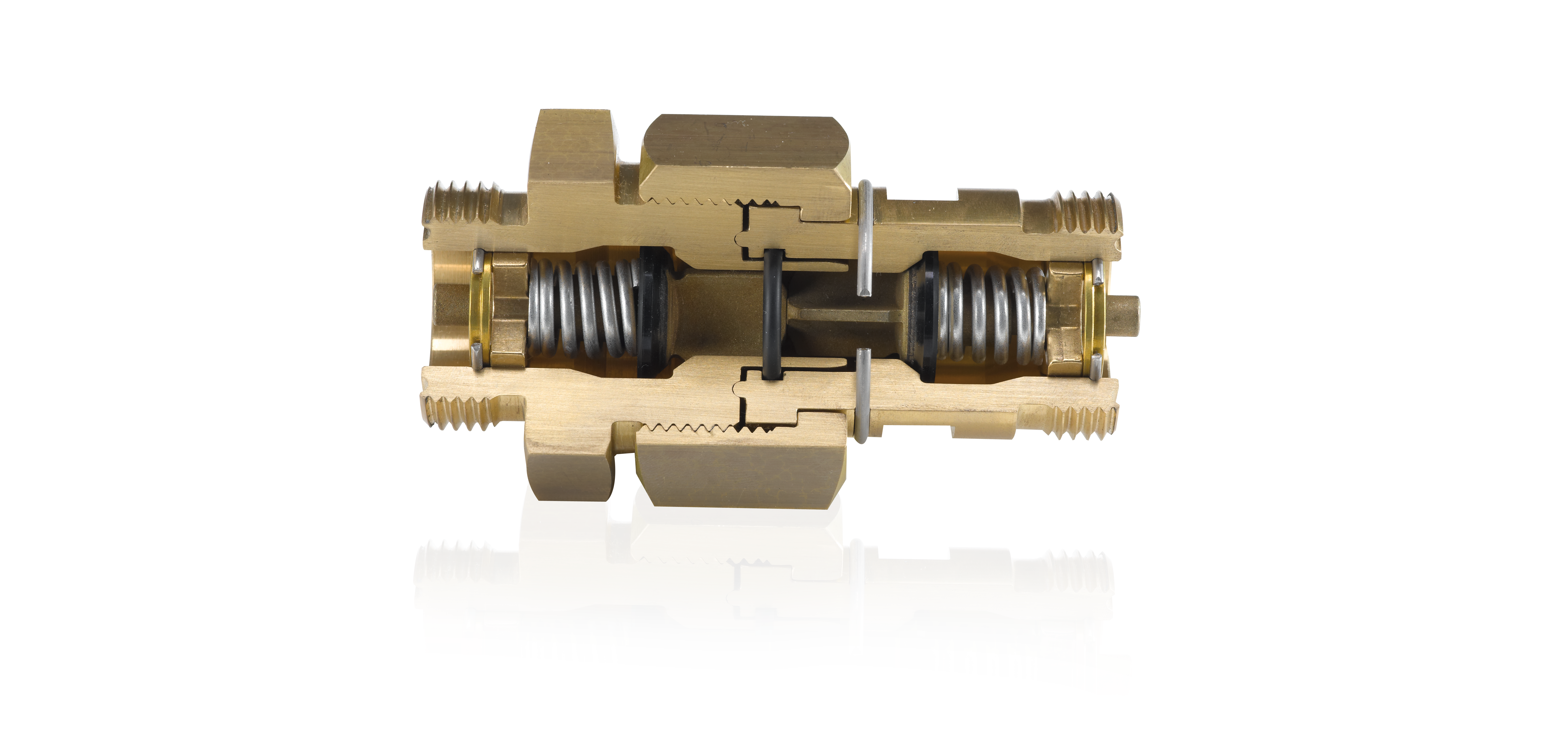 With a leak rate under 1x10-8 mbar l/s, the DILO sealing principle gives customers unparalleled peace of mind. And even if tube unions are frequently loosened and re-connected, tongue and groove fittings continue to provide high levels of gas tightness.
Alternative Gas vs. SF6 Fittings: Avoiding Cross-Contamination
DILO also offers couplings and valves for alternative gases. These include:
DILO couplings C4-FN for gas mixtures
DILO couplings C5-FK for gas mixtures
DILO Couplings CA for gas mixtures based on dry-air or clean-air
These connections remain pressure-tight even when coupling or uncoupling and also have leak rates equal to or less than 1x10-8 mbar l/s.
Alternative gases should never mix with SF6. To help prevent cross-contamination, DILO alternative gas couplings have a different thread pitch or size then your standard SF6 couplings. Alternative gas couplings and caps can also be color-coded to serve as a visual cue for technicians.
DILO Adapter Kits
Gas Insulated Equipment (GIE) and gas handling cart connections can vary by manufacturer or industry. DILO offers a variety of f adapter kits that connect to many common connections: :
DN8 Testing and Filling Adapter Kit
This kit includes the necessary couplings for all DILO measuring devices and compatible couplings for most breakers. The DN8 Testing and Filling Kit includes:
DILO DN8 self-sealing male to 3/8 in. MNPT in stainless steel
Adapter- DILO DN8 self-sealing male to 3/8 in. female JIC (flare)
O Adapter- DILO DN8 self-sealing male to ¼ in. JIC female
Type 21 male quick-disconnect x Type 21 male quick-disconnect
DILO DN8 self-sealing male (M26x1.5) to female Schrader valve

1/14 in. chrome Schrader valve extension

Adapter DILO DN8 self-sealing male to 3/8 in. JIC male Siemens SP breaker (Aeroquip)
DILO DN20 self-sealing female (VK/F) to DILODN8 self-sealing male (VK/A)
Type 21 female quick disconnect to CGA590 bottle connection with ball valve
DILO DN8 hose union
Adapter DILO DN8 self-sealing male with a 90-degree bend to Malmquist
5m/ 15' DILO DN8 wire-braided hose with self-sealing DILO DIN8 self-sealing female couplings on both ends.
6m/ 20' long wire-braided hose (teflon lined) with self-sealing QD type 21 fittings
This kit also includes a high quality SF6 regulator that can be used for Filling SF6 gas compartments or used to reduce gas when performing gas analysis on a bottle of gas. The DILO regulator has a stainless steel diaphragm vs. a rubber diaphragm. This helps avoid moisture contamination when testing.
Adapter Kit DN20 V3
This kit contains DILO DN20 adapters for commonly used SF6 gas compartment connections. Included are adapters to convert DILO's DN20 self-sealing male coupling (M45x2) to:
CGA590 bottle adapter with DILO ball valve
1 in. male NPT
¼ in. female NPT
3/8 in. female NPT
1 ¼ in. female JIC flare
DILO DN8 self-sealing female adapter
The kit also has:
DILO DN20 self-sealing female (M45x2) with air filter
DILO DN20 self-sealing female (M45x2) to (Type 21) male quick connect
DILO DN20 self-sealing male with a 90-degree bend to Malmquist (ASEA)
DILO DN20 self-sealing hose union
Color-coded plastic coupling covers and protective eyewear are also included.
Count on DILO for Expert Gas Handling and Equipment
If your business needs reliable, high-quality gas-insulated equipment, turn to DILO. With over 50 years of experience in SF6 handling, and over 70 years of manufacturing valves and couplings, DILO is an industry leader committed to a zero emissions philosophy. We design and build turn-key plants, manufacture high-pressure tube unions, and offer comprehensive gas handling and reconditioning services. Plus, we're committed to education, offering safety and handling training for technicians throughout the year. To learn more about SF6 gas handling fittings, contact us today.