Discovery and Early Development of SF6 Gas
While there are some naturally occurring sources of SF6, it is primarily a man-made industrial gas. SF6 gas history as we know it began in 1901 when it was first formulated by Henri Moissan, a French chemist who discovered multiple fluorine compounds. Today, about 70% to 80% of global SF6 usage is linked to the electrical transmission and distribution industry. SF6 is used as an insulator in medium-voltage and high-voltage electrical equipment. It also has applications in the manufacturing processes of the electronics industry, where it is used in smartphones, computers, and electric vehicle batteries.
While electrical equipment is designed to keep SF6 from being released into the environment, leaks can occur during SF6 gas handling, maintenance tasks, or equipment repair or decommissioning. Unfortunately, SF6 has very high global warming potential: it is 23,500 times more potent than carbon dioxide. Once released, it stays in the atmosphere for over 3,000 years.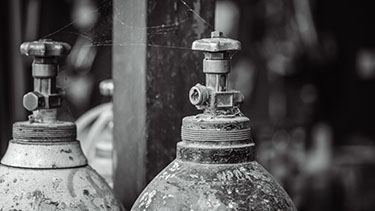 Types of SF6 Contaminants
Improper handling practices can introduce contaminants into SF6 gas. These can include:
Water vapor: Moisture from water vapor can be introduced through handling errors. At high concentrations, moisture can reduce SF6's dielectric (insulating) capabilities, creating an unsafe product.
Oil: Small amounts of oil mist can affect the insulating capacity of GIE, so technicians should always use oil-free handling equipment.
Decomposition products: Sulfur dioxide, hydrogen fluoride, and other reactive decomposition byproducts can form if SF6 is exposed to partial discharges or failure arcing.
Other gases: Improper handling, faulty equipment, such as leaking hoses, can also introduce oxygen or nitrogen. In some applications, carbon tetrafluoride is purposely mixed with SF6.
SF6 Gas in the Electrical Industry
Technicians should always use the proper equipment and handling practices to reduce any risk of SF6 contamination or unintentional emissions. Gas analyzers were first developed to determine the concentration of a specific gas within a container or gas-insulated equipment. These analyzers deliver real-time, accurate measurements to assess gas quality and ensure safety. Gas analyzers can measure:
SF6 volume percentage
Moisture concentration
SO2 concentration (ppm)
HF concentration (ppm)
H2S concentration (ppm)
CO concentration (ppm)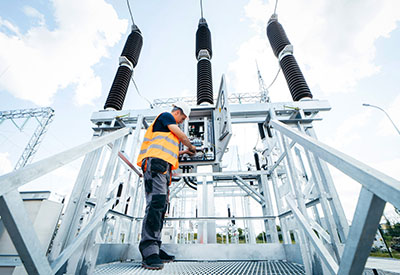 Environmental Concerns and Regulation
Passed in 1997, the Kyoto Protocol was the first international agreement to contain binding reduction targets for greenhouse gases. Both the Kyoto Protocol and its successor, the Paris Agreement, were created through United Nations Framework Convention on Climate Change (UNFCCC). Under the Kyoto Protocol, industrialized nations committed to specific targets for:
SF6
Carbon dioxide (CO2)
Methane (CH4)
Nitrous oxide (N2O)
Sulfur hexafluoride
Hydrofluorocarbons (HFCs)
Perfluorocarbons (PFCs)
As the most potent greenhouse gas, many state and regional regulations govern SF6 handling and emissions throughout the United States. In 1999, Environmental Protection Agency (EPA) established the SF6 Emission Reduction Partnership for Electric Power Systems, a collaborative effort between the agency and electric power companies to implement practices and initiatives that decrease emissions. These regulatory changes drove innovation across the industry, leading to the development of tools such as emission-free analyzers. These devices can measure SF6 volume percentage, moisture, and concentration of byproducts like sulfur dioxide, without any emissions. Efforts to reduce emissions have also led to research into alternatives to SF6 gas.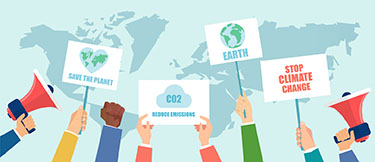 Evolution of SF6: Advancements with Technology
In the past, gas analysis required analog equipment and manual calculations. Today, however, SF6 gas analyzers are available as small, portable equipment with touchscreen technology. These analyzers start working in just seconds and have a user-friendly interface that's easy to navigate. Some analyzers can even be controlled remotely from a mobile device over a Wi-Fi connection.
Continued Research and Alternatives
To minimize the harmful effects of greenhouse gas emissions, the industry is exploring solutions to replace SF6 with environmentally friendly alternative gasses. SF6-free gas handling options through DILO include:
Product Line C4: C4-FN (CF3)2CFCN
Product Line C5: C5-FK (CF3C(O)CF(CF3)2
These alternative gasses have a significantly lower global warming potential (GWP) than SF6. Several manufacturers now offer gas-insulated equipment designed for use with alternative gasses.
Current and Future Trends
Even the most experienced technician needs occasional support with gas handling equipment and troubleshooting. At DILO, we offer DILO Direct Connect, a service that allows our team to remotely access a company's equipment. DILO Direct Connect uses 4G technologies to provide operational support and software updates, regardless of where the customer is located. Because the system is directly integrated into the gas cart or analyzer, DILO staff can gain remote access without using the customer's internet service. With a real-time feed, it's easier to resolve issues quickly. Most touchscreen DILO products purchased after 2019 feature DILO Direct Connect.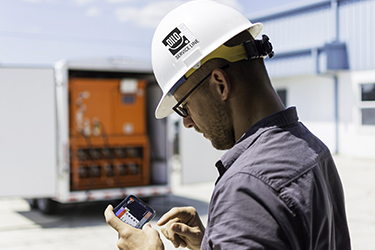 Learn More from DILO
For over 50 years, DILO has been a trusted leader in the field of SF6 gas handling and GIE. We work with clients all over the world to develop efficient gas management solutions that align with our zero-emissions philosophy. DILO is on the cutting edge of SF6 gas alternatives, as well. Delivering high-quality, durable equipment, our clients know they can count on us for unparalleled products and best-in-class customer service.
Committed to responsible handling practices and environmental sustainability, DILO also offers safety and handling training programs for industry professionals. We are proud to offer both in-person and virtual training opportunities, and we are accredited by International Accreditors for Continuing Education and Training (IACET). To learn more about the evolution of SF6, get details about upcoming gas handling safety training sessions, or get in touch with DILO's sales team, contact us today.