At DILO, we're committed to providing clean energy solutions with a zero-emissions philosophy. Offering Industrial Gas (hyperlink: https://dilo.com/industrial-gas-equipment) product solutions, DILO serves energy cooperatives, utility companies, government agencies, and private-sector companies. Learn more about solar hydrogen systems and applications.
Solar Hydrogen Generation
While solar hydrogen technology is still in the early phases of development, exciting new advancements offer opportunities for clean energy in vehicles and homes.
How is solar energy converted into hydrogen?
Researchers from universities have developed solar-powered panels that produce hydrogen fuel. These devices use electrolysis: the process of using electricity to create a chemical reaction.
The panel absorbs moisture from the air in the form of water molecules. Through electrolysis, these molecules are split into their atomic components: Hydrogen and Oxygen. This chemical reaction takes place in an electrolyzer, which is powered by photovoltaic cells – a type of solar panel that converts thermal energy from the sun into electricity.
What are the advantages of using solar energy for hydrogen production?
As more and more industries seek to reduce their carbon footprint and decrease their reliance on fossil fuels, solar power is an attractive energy source. It's abundant, renewable, and environmentally friendly. Plus, as solar energy becomes more mainstream, the cost of using solar to produce electricity has consistently gone down.
At DILO, our goal is to find harmony between technology and sustainability. As a leading supplier and decades of manufacturing experience in leak-free high-pressure tube fittings, DILO fittings have proven suitable for hydrogen applications. We are dedicated to supporting alternative energy sources like solar for hydrogen production initiatives.
DILO solar and hydrogen projects
With a growing emphasis on sustainable energy solutions to combat climate change and reduce dependence on fossil fuels, both DILO USA and DILO Germany have started development projects focused on energy resources to contribute to a global transition toward a greener future.
DILO Company Inc. & DILO Direct (DILO USA) has recently completed a significant solar project at our Odessa, Florida headquarters. This solar project is the first step to setting up our infrastructure to allow us to scale future projects.
DILO Florida Building Potential:
- 18,520 sq ft roof area
- 100.3 kW DC output capacity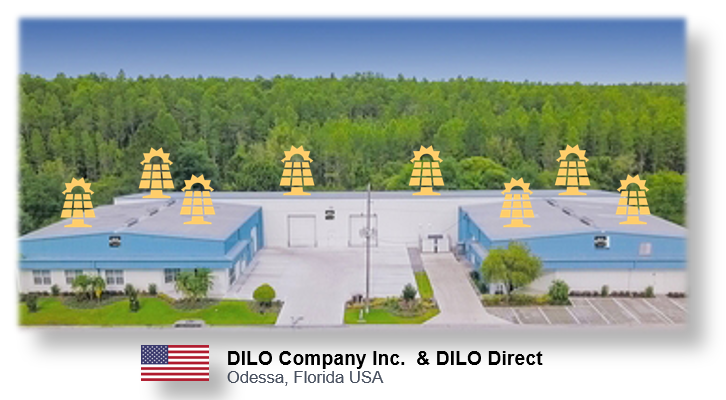 DILO Armatruen und Alagen GmbH (DILO Germany) is taking steps to kickstart a solar & Hydrogen self-sustaining energy project. With a thorough evaluation of the existing infrastructure, the DILO Training & Apprenticeship Building (aerial view below) was selected as a suitable space to embark on this project. Planning has started for the installation of a Photovoltaic (PV) system on the roof for energy production, subsequent storage and distribution of energy in the form of Hydrogen.

Training Buildings Energy Consumption:
≈ 200 kWh/day
≈ 1000 kWh/week
≈ 50000 kWh/a
≈ 20 kWh night demand
Training Building Potential:
≈ 1250 m² roof area
≈ 160 kWp PV power output
≈ 200,000 kWh/a yield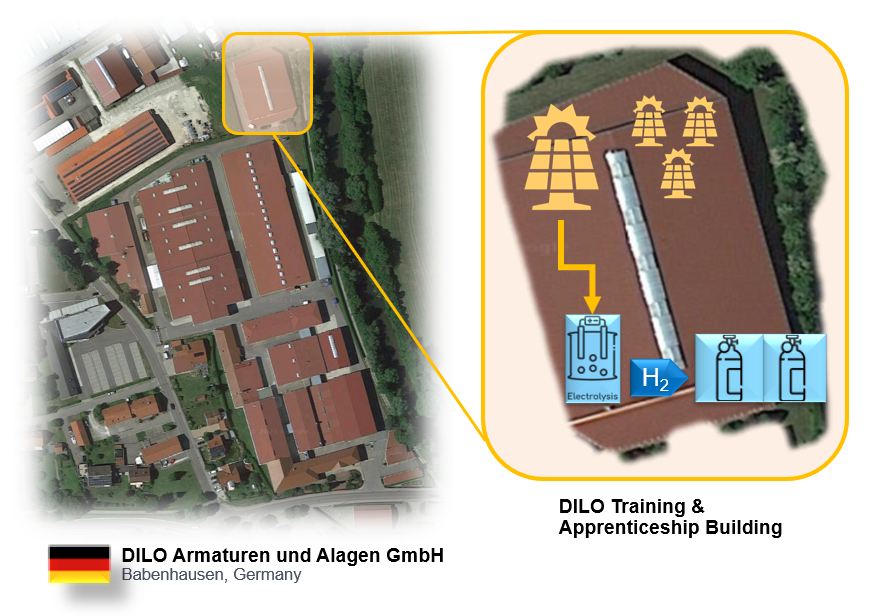 With a strong focus on research and development, DILO's goal for investing in pilot projects is to foster innovation by collaborating with universities, research centers, and technology companies to explore new technologies, materials, and processes that can enhance hydrogen production, storage, and utilization. These projects will serve as proof of concept, allowing us to assess the performance, identify areas for improvement, collect data, monitor key metrics, and analyze the outcomes to validate and refine your business strategies and expand your operations as demand for hydrogen energy grows.
Get in Touch with DILO Today
Founded in Germany in 1951, DILO has decades of experience providing efficient gas management solutions for clients around the world. In addition to SF6 and alternative gas handling, we offer:
High-pressure products
Equipment for industrial gases (Helium, Xenon, and others)
Emission-free gas-handling consulting services
DILO also seeks to advance energy sustainability through our safety and handling training programs for technicians who work with gas-insulated equipment (GIE). Accredited by International Accreditors for Continuing Education and Training (IACET), DILO offers both in-person and virtual training sessions.
For more information about DILO's high-pressure applications for Hydrogen, contact us today.