But is sulfur hexafluoride safe? The Kyoto Protocol, a 1997 international agreement aimed at reducing greenhouse gas emissions, identified SF6 as one of six key GHGs contributing to human-driven climate change. And in some cases, SF6 emissions can pose health hazards: pure SF6 is non-toxic but it is an asphyxiant. Learn more about how to identify and prevent SF6 gas hazards.
Why SF6 Gas Needs Proper Handling
Beyond its applications in energy transmission and distribution, SF6 gas is used in several other industries, including medical technology, radar systems, particle accelerators, and semiconductor production. In any industry setting, the goal should be zero emissions because of SF6's global warming capabilities.
Proper handling practices are critical to minimize the risk of any accidental emissions. Because of its atmospheric stability, SF6 has an exponentially higher warming potential than carbon dioxide. Once released, this greenhouse gas (GHG)can stay in the atmosphere for up to 3,200 years.
While SF6 emissions do not pose an immediate health risk to people or animals, high concentrations of SF6 can displace oxygen. This can affect the respiratory system and cause health issues for any workers that are exposed.
3 Most Common SF6 Gas Hazards
Although SF6 is non-toxic in its pure state, electrical discharges can create toxic byproducts that can be a health and safety hazard. The most common SF6 gas hazards include:
SO2 Byproducts
When exposed to certain types of electric discharges, SF6 can decompose into byproducts such as sulfur dioxide (SO2), a colorless gas with a strong odor. Exposure to SO2 can be harmful and cause immediate irritation to the eyes, nose, and throat. Workers exposed to sulfuric acid vapors may experience:
Coughing
Choking
Constriction of the airways
Nasal mucus discharge

SO2 in liquid form can also lead to frostbitten skin.
Oxygen Displacement
Because SF6 gas is five times heavier than air, it will displace oxygen in enclosed spaces. Without proper ventilation, SF6 gas can be an asphyxiant. In the event of an accidental leak, workers may experience symptoms of asphyxia, such as:
Nausea or vomiting
Increased pulse rate
Lack of muscle coordination
Convulsions
Weakness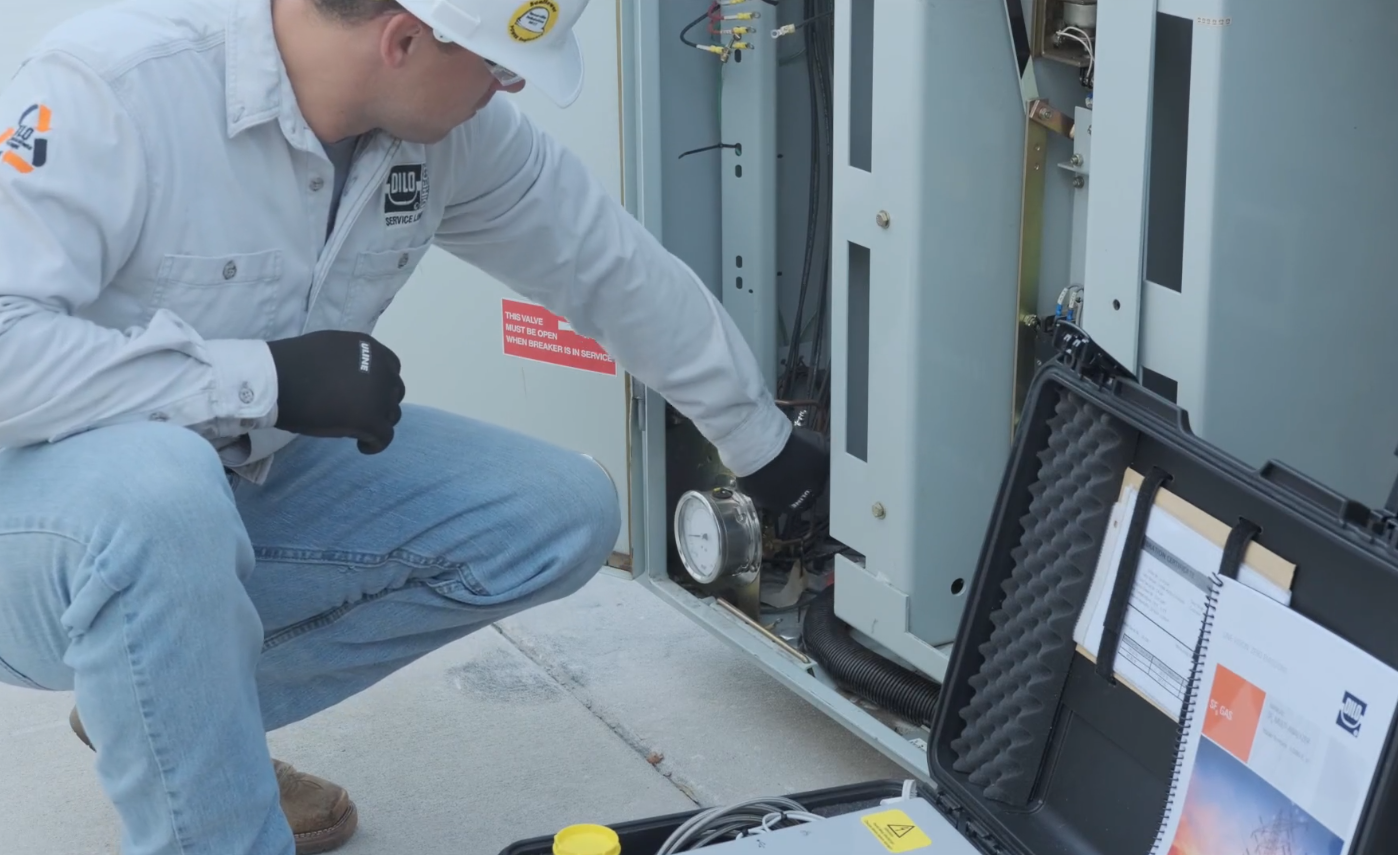 SF6 Leaks or Equipment Failure
When accidental leaks happen in gas-insulated equipment (GIE), malfunctions and short circuits are more likely. Leaks can permanently damage equipment, incurring repair and replacement costs. And switchgear malfunctions can even lead to dangerous accidents such as in the case of an SF6 circuit breaker explosion in a converter station in China.
Fires are rare in outdoor installations of SF6 gas equipment because there is rarely flammable material around the switchgear. In indoor installations, however, there is a greater risk of fire, particularly in medium-voltage equipment.
How to Address Them
When working with SF6 gas, prevention is key. Taking steps to minimize any chance of emissions will help your business evade these potential hazards. Establish a robust monitoring and tracking program that includes:
A complete inventory of all SF6 equipment and storage
End-to-end tracking for all SF6 cylinders
24/7 monitoring of GIE for leak detection
Comprehensive maintenance and timely parts replacement when needed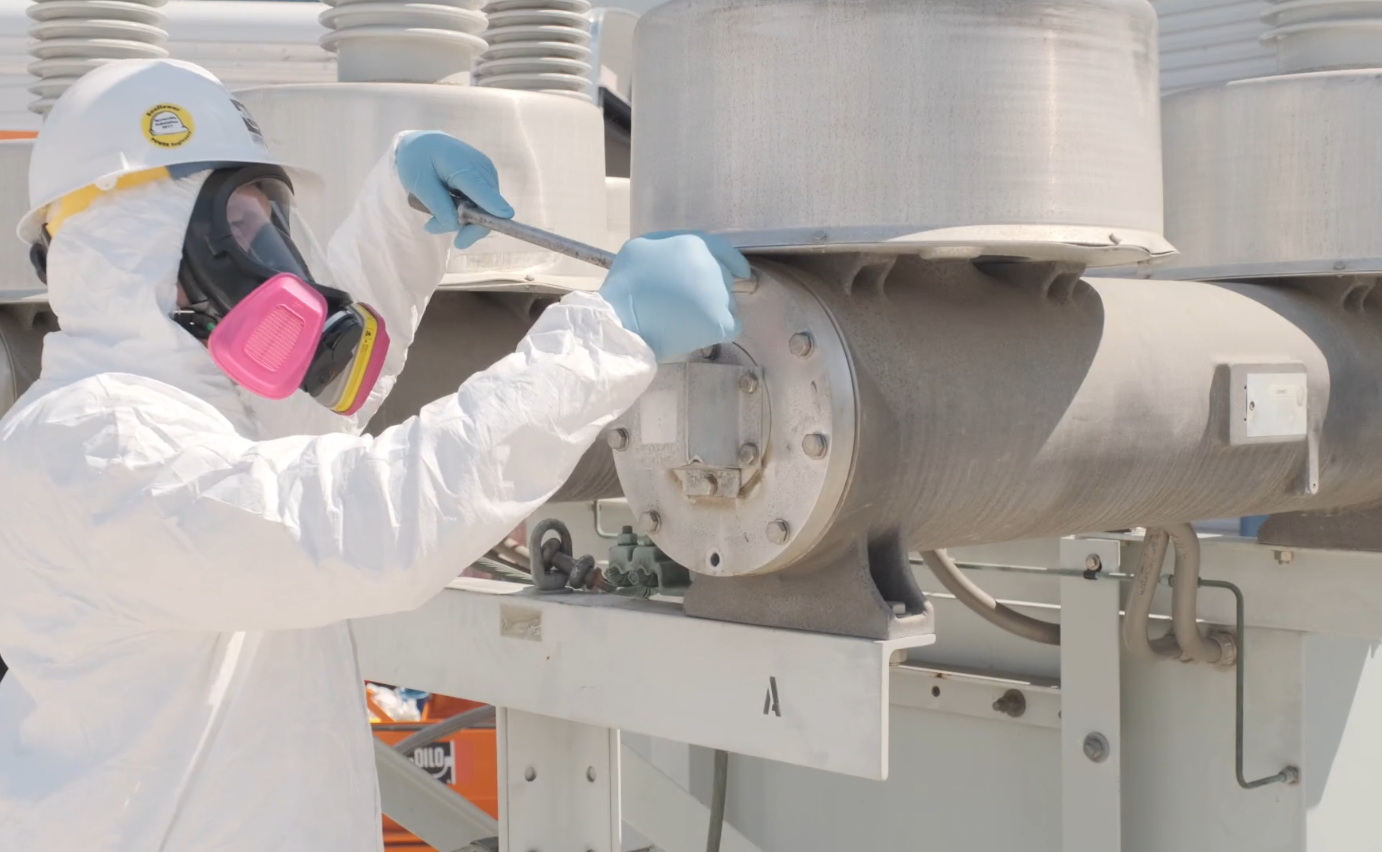 In the event of an exposure, evacuate any personnel who are not wearing personal protective equipment (PPE) and ventilate the area. Stop the flow of gas to prevent any additional emissions. Seek immediate medical attention for any personnel that may have been exposed to SF6 or byproducts.
Training with DILO Academy
At DILO, we're committed to helping you achieve a zero-emissions philosophy. We offer virtual and in-person training on SF6 safety and handling. DILO is an accredited provider through the International Accreditors for Continuing Education and Training (IACET), the industry standard for continuing education credits.
Through DILO Academy, we provide access to a wide variety of webinars, including a free course on Emergent By-Product Cleanup Services. This webinar covers the correct procedures for putting on and taking off PPE, as well as other worksite considerations and best practices.
Prevent SF6 Gas Hazards With Help From DILO
With more than 50 years of experience in SF6 handling, DILO is an industry leader in education and training. Providing comprehensive services for SF6 and alternative gases, DILO offers handling, recycling services, and state-of-the-art monitoring equipment. For more information about preventing SF6 gas hazards, as well as training opportunities through DILO, contact us today.