Understanding the calibration process
Keeping up with routine maintenance will extend the life of your analyzer, and it should always be performed by a well-qualified technician. Improper calibration could result in exposure to arc by-products, damage to the unit, or faulty readings during gas analysis.
To shed light on this important issue, DILO interviewed Mark Davis, Analyzer Calibration Specialist. Below, Mark explains the process of analyzer calibration and servicing and the importance of working with a professional.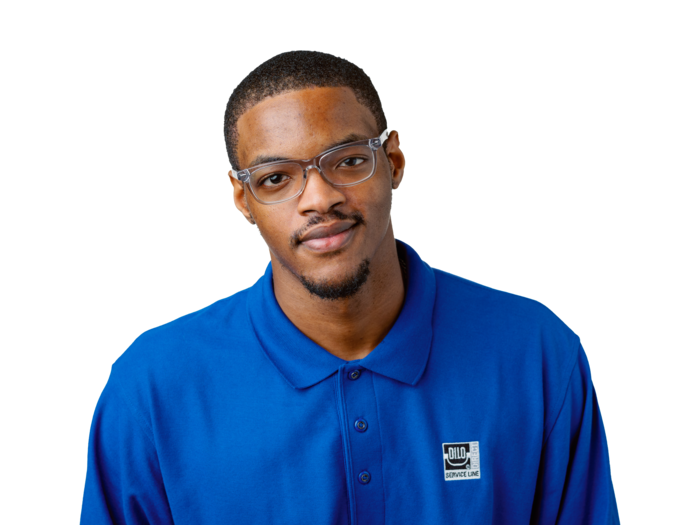 Why is it important to calibrate an SF6 gas analyzer?
Having your analyzer sent in for service regularly helps extend its life and saves you money in the long run. Knowing that your analyzer undergoes maintenance at regular intervals also helps ensure that you can trust that the results you receive are viable. If there are any problems with the analyzer within the first 12 months after service, you have a warranty for assurance.
Think of it like getting an oil change for your car. Neglecting that service for too long will eventually lead to various problems with your vehicle and can potentially cost thousands in repairs. Your car may even be beyond repair. Analyzers that have not been serviced regularly tend to give skewed test results, have longer lead times, and are more expensive to repair.
The analyzers that come in regularly generally require a lot less time for service to be completed and typically don't exceed the standard cost for calibration.
Describe a typical day as an Analyzer Calibration Specialist.
A typical day as an analyzer calibration specialist largely consists of a lot of analyzers, a lot of gas, and a lot of data. Davis' day usually starts with routine maintenance on all of DILO's testing standards. Then he services analyzers and completes estimates. Davis ends the day by finalizing any work he has not finished, looking over the workload for the next day, and completing any other odds and ends.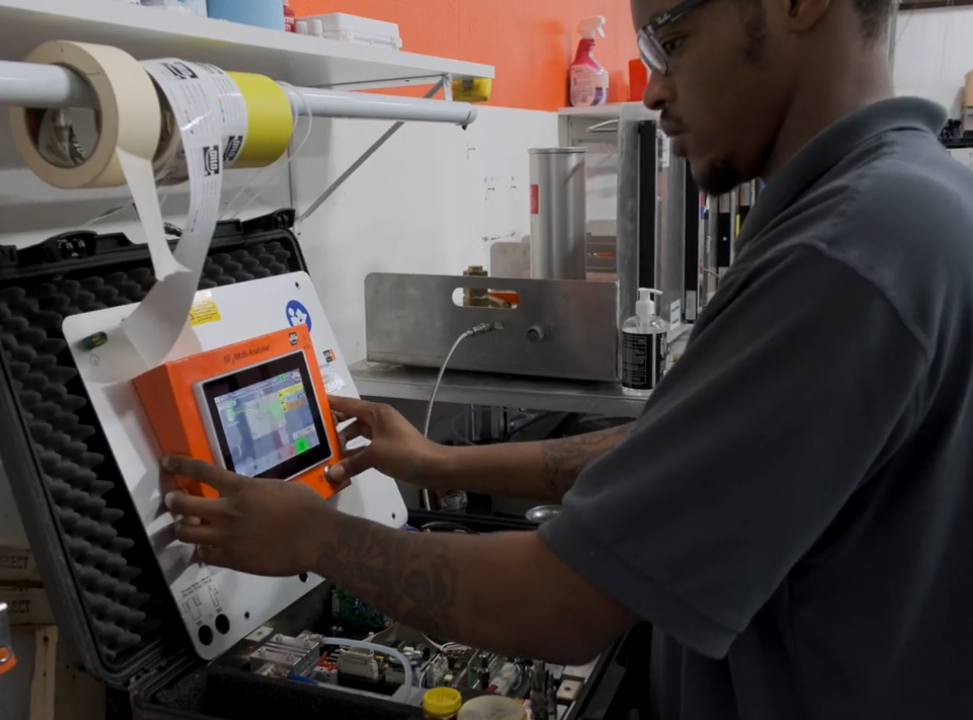 What is the process of calibrating an analyzer?
The calibration process is very involved. It begins with a check-in process where calibration specialists collect and record customer data and analyzer information before the device goes in line to wait its turn. Once the unit is being worked on, they take pictures of its current condition and any accessories. Next, they check for any retrofits that may need to be done, assess any damage, and identify potential repairs.
Before any work is done, calibration specialists test the unit as-is to get an idea of how it has been performing in the field. Then they check for leaks, make repairs and adjustments, update software if necessary, and test gas and record results.
Calibration specialists compile all that information into a repair sheet. The repair sheet is reviewed and made into a service report. Once approved by the customer, they complete any finishing touches, double-check the unit for accuracy, and send it back with a certificate of calibration.
Why is it important to have a calibrated scale?
For tracking purposes — with a calibrated scale, you can be confident in the values shown when recording the weight of your cylinder before and after filling or emptying it.
When dealing with SF6 gas, the key is zero emissions. Any and every resource you have to detect a leak or loss of gas is invaluable. Additionally, improper tracking of the amount of gas you use can lead to a hefty fine. Calibrated scales help deter that from becoming a reality.
Why is it important that calibration is performed by a professional?
Calibration is simply testing a device against a verified standard to ensure accuracy. It sounds easy enough, but having a trained professional complete calibration is essential.
For starters, if a device is shown to be out of tolerance, calibration specialists are trained to adjust them back into tolerance. They are also skilled in checking for and correcting any abnormalities. They're able to interpret the results given by the units and even identify false positives.
As trained professionals, calibration specialists have the means to ensure that your device is in prime condition for use. There's also the added benefit of having a 12-month warranty and a certificate of calibration to reference if needed.
How long does calibration take?
Depending on the type of analyzer, DILO's calibration service could take us anywhere from three to eight hours to complete from start to finish.
Will my unit have to be sent out of the country or to Europe for calibration?
At DILO, the calibration process has evolved to a point where the need for overseas servicing is almost nonexistent. Currently, only our mirror analyzers and certain single functions require calibration overseas. Every other model analyzer can be calibrated here, barring any extenuating circumstances.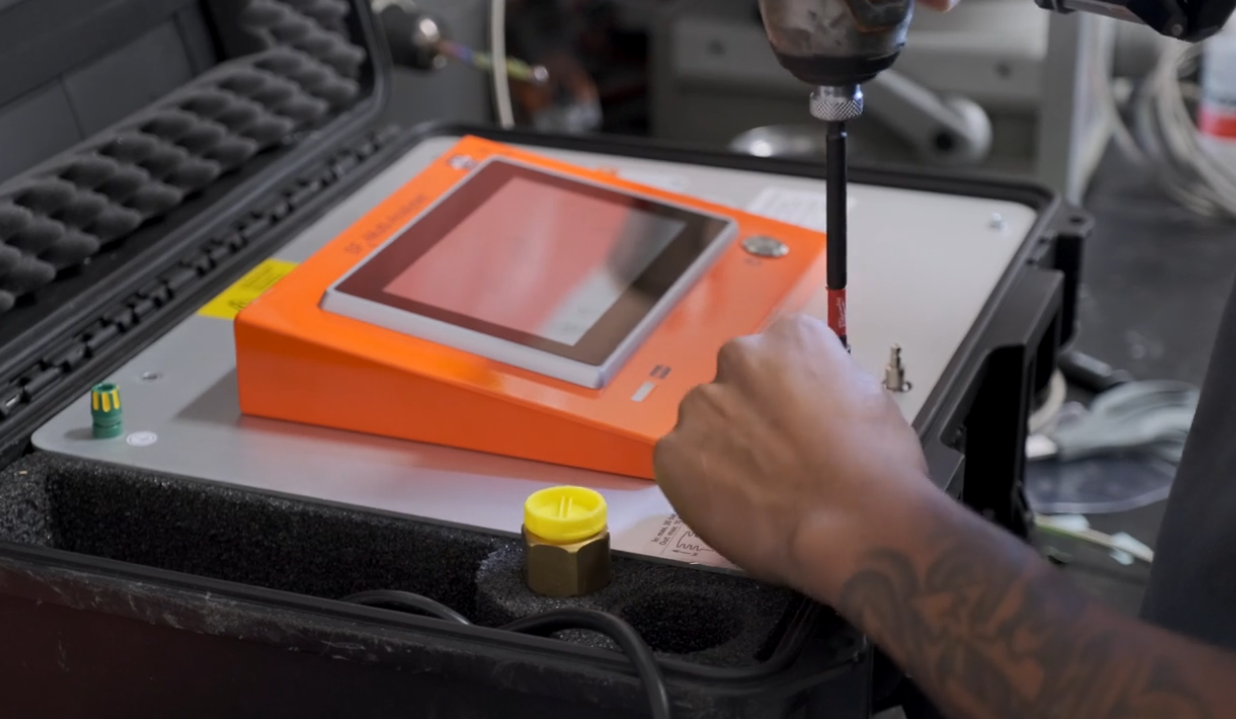 Analyzer Calibration Department Audit Results: A Success Story

At DILO, we are committed to delivering high-quality services to our customers, and we take pride in ensuring that our operations and services meet the highest standards of excellence. That's why we are thrilled to share the news of the successful completion of our recent audit for our Analyzer Calibration Department. The audit was conducted by a third party specializing in evaluating business processes and practices. We are proud to report that we met all requirements and received positive feedback on our operations. The result of the successful audit will maintain DILO Company Inc.'s position as a Qualified Supplier for the third party to use for the supply of calibration and services of DILO measuring and test equipment. The audit provided us with valuable feedback that we will use to enhance our analyzer calibration services further. We are constantly striving to improve our processes and procedures, and this feedback will help us to identify areas for improvement and take action where necessary.
We take this opportunity to thank our team members for their hard work and dedication. Their commitment to excellence has been instrumental in our success, and we are grateful for their efforts. We also want to express our appreciation to our customers for their continued support and trust in us. Rest assured that we will continue to uphold the highest standards in everything we do.
DILO Congratulates Chris, Ricardo, John, Travis, and Mark for their outstanding successful completion for the preparedness of our 2023 Audit of the Analyzer Calibration Department process and policies.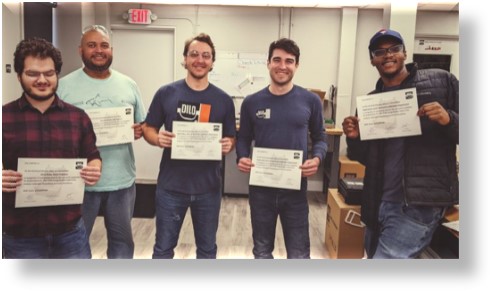 Learn More from DILO
At DILO's Analyzer Calibration lab, we change and grow with the industry. Our experts are committed to one vision: zero emissions. Dedicated to providing high-quality service promptly, we offer analyzer calibration and an annual scale calibration program to help you track SF6 usage and stay in compliance with EPA regulations.
DILO also offers instructional videos to provide additional guidance on calibration. For information on proper SF6 calibration, contact us today.