SF6 GAS LEAK DETECTOR
For locating, logging, and analyzing gas leakage.
3-033-R501
The 3-033-R501 SF6 Gas Leak Detector raises the industry benchmark for portable SF6 gas leak detection. It is capable of detecting emissions as small as 0.3 oz/yr in less than one second!
How It Works
The SF6 Leak Detector can be used to locate and quantify gas leaks, log them, and then total them in a leak group system. A new groundbreaking capability has also been added to our already tried and tested 3-033 series; Advanced Leak Quantification Technology (ALQ), which ensures accurate and reliable operation while eliminating the need for periodic adjustments to a calibrated reference leak source.
Product Features
The SF6 Gas Leak Detector features an easy-to-navigate menu system that simplifies setup and can be accessed from the device or the Smart Probe. The Smart Probe also features an LCD readout that shows the current leak rate, an LED feedback indicator, and audible indications to signal if the user's maximum defined leak rate or threshold has been exceeded. As an added convenience, SF6 leaks can be displayed in five different units. All this makes our product one of the best SF6 gas leak detectors on the market.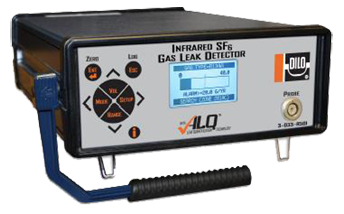 Other Features:
Advanced Leak Quantification (ALQ™) technology eliminates the need for periodic adjustments to a calibrated reference leak source.
Utilizes infrared technology to quickly and accurately pinpoint leaks as well as to extend sensor life and eliminate false alarms.
Automatic calculation of gas concentration regardless of flow rate
Responds to leaks in less than one second and detects leaks as small as 0.03 oz/yr (0.9 g/yr)
Smart Probe for handheld controls and display
Comprehensive diagnostics to keep track of system parameters
Four SPDT relays rated 2 A at 250 VAC (inductive) 5 A at 250 VAC (resistive) Programmable to energize under 11 different operating conditions
Our SF6 Leak Sniffer is used by technicians to quickly determine if there is indeed a leak present and can then help locate where a leak might be originating from. Once a leak is detected by the SF6 Leak Sniffer, the technician can then use the Portable SF6 Leak Detector to quantify, log and total the leak in a leak group system. The Portable SF6 Leak Detector also includes advanced Leak Quantification Technology (ALQ), which ensures extremely accurate and reliable results. DILO Direct can also provide leak detection services for your company.