2019 Direct-Track Updates
DILO Direct is thrilled that our software is simplifying SF6 gas management and making reporting much easier for our users. We take customer feedback to heart and are constantly trying to improve our Direct Track Software. Our latest update has made reports, receiving cylinder/GIE and moving gas easier than ever. The review of updates is also a great sneak peek into what Direct-Track can do for you.

Direct-Track is DILO Direct's cloud based SF6 monitoring software solution to help you manage and monitor your SF6 inventory. Access your live SF6 inventory data, track changes on the go, and meet your state and federal reporting requirements- all with the same solution. Click here to learn more about Direct-Track or read on to learn about the latest updates.
Reports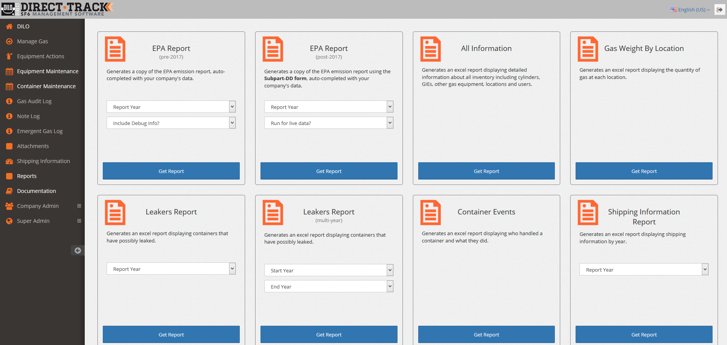 One of the best features of Direct-Track is the reporting tool, which allows users to create reports at the click of a button. Direct-Track reports fall into two categories: Federal/State Reporting and Customized Company/Inventory Reports. We've streamlined the reporting tool to make it more user friendly. Users no longer have to travel to an additional page to generate reports. The information for each report can be filled in directly on this page. Furthermore, reports are arranged in a clean, systematic way for quick selection.
Receive Cylinder/GIE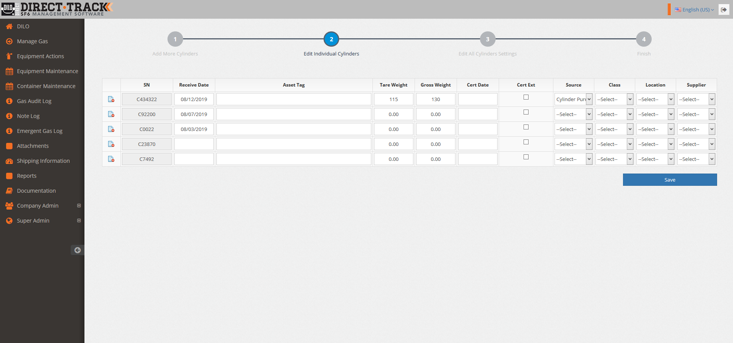 Users enter cylinders and GIEs into Direct-Track using the Receive Cylinder/GIE tool. This interface allows the tracking of important container data such as name/serial number, gas quantities, supplier, location, certification data, and more. Our latest update has kept all the practical features while minimizing the amount of work for the user. All fields in step 2 are now editable, so the user no longer has to go back and forth between pages during data entry. The validity of the data is now verified in a separate step, allowing the user to complete data entry without receiving errors.
Move Gas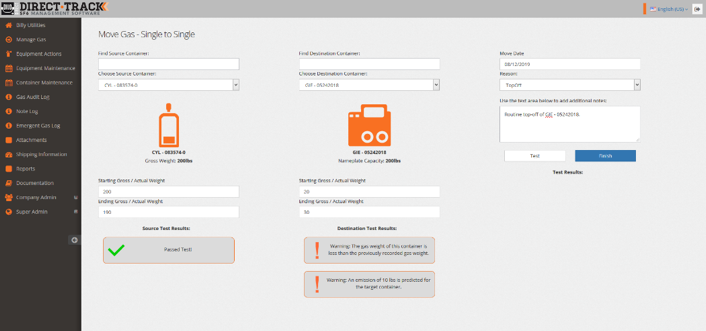 Movements of gas are recorded with the Move tool. This interactive tool proofs gas weights and records any emissions. Source and destination containers are now displayed visually, allowing the user to quickly verify they have selected the correct containers. When data of gas movements is entered into this tool, the tool will alert the user to any predicted emissions. This ensures that actual emissions will be recorded, but also alerts to "phantom" emissions caused by user error. This can prevent companies from being responsible for costly SF6 emissions that didn't occur. The newly added test button allows the user to preview what will happen when they click the 'submit' button.
Documentation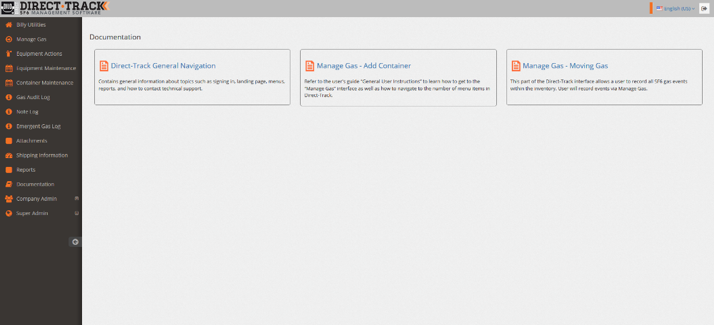 The documentation feature is brand new for Direct-Track. This tool enables users to look up manuals and instructions on how to perform basic functions in Direct-Track, such as receiving inventory, moving gas, and generating reports.
Interested in Direct-Track? We are happy to provide more information or a demonstration. E-mail us at direct(at)dilo(dot)com.